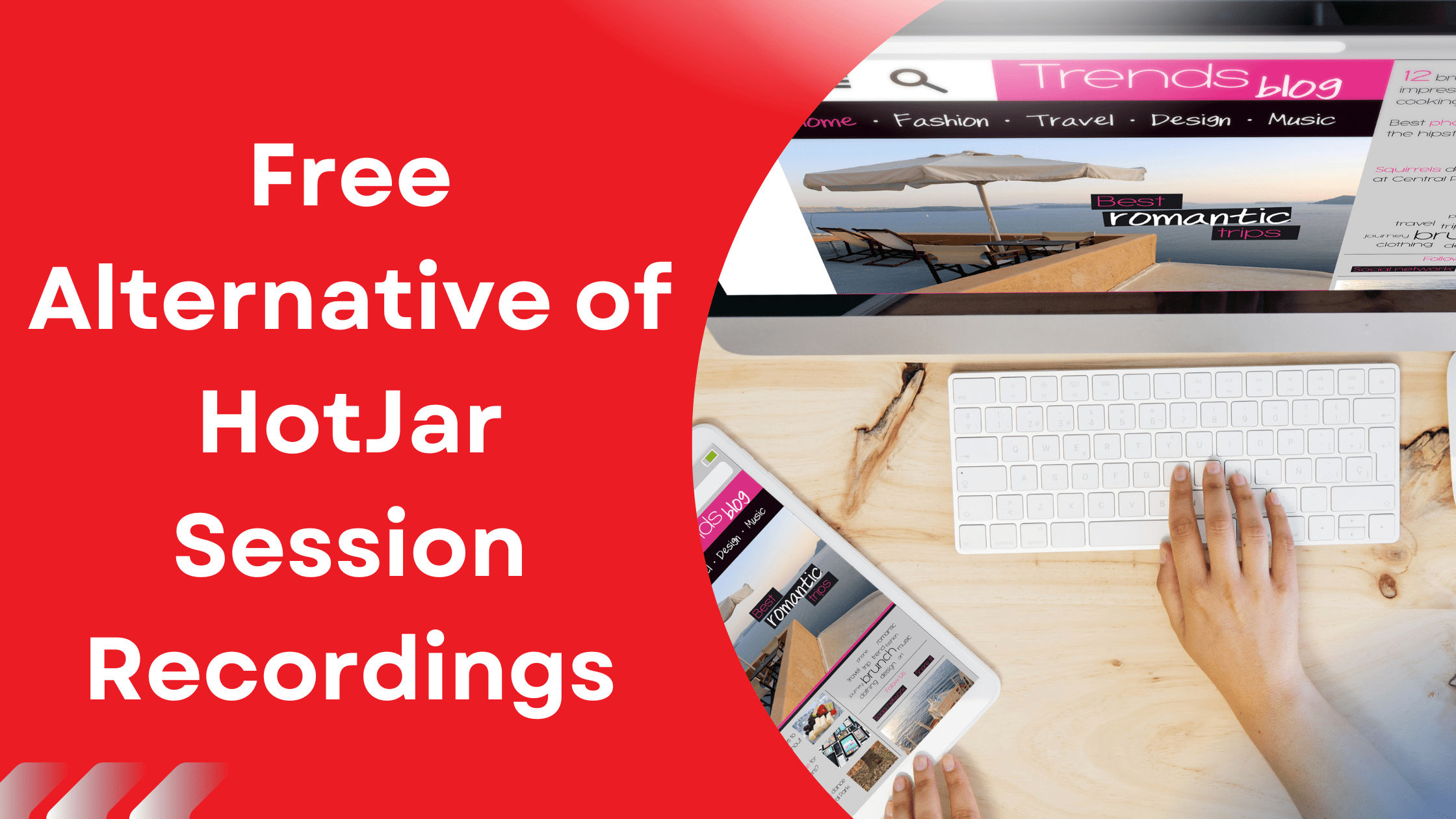 At startupnoon.com, we aim to provide authoritative, trustworthy, expert advice. Our staff thoroughly researches, edits, and fact-checks all content. If you think we can improve this article, please email [email protected].
Session recordings are representations of actual actions taken by visitors while browsing a website, Hotjar is a paid session recording software, and below we are reviewing Hotjar features and uses and mentioning the very same software that provides unlimited session recording for free as a Hotjar free alternative.
In the twentieth century. as the world is going digital, your online presence shows how much expertise you have in your respective field.
The first instinct of a user is to find your online social media account and analyze your work ethic. It helps the user to compare and calculate the best possible option for their work. That is why it is extremely important to have your social media accounts connected and well-maintained for a good user experience.
There are multiple tools online that help you analyze user behavior when they visit your website. It shows complete analytics by a user session recording so that you can improve the user experience on your website. One of the tools that are popular around the internet is Hotjar.
It helps the website owner through session recordings and many other important features. In this article, we will talk about Hotjar and introduce you to some of its free alternatives for your next website session recording.
User Experience
The User Experience (UX) is the sum total of all interactions a person has with your product or service. It is how the interaction feels and looks to them, as well as how easy it is to navigate through. Good UX makes a website more engaging for visitors and better for users.
A good UI is visually appealing and easy to engage with. It's also consistent with your brand, intuitive, and easy to learn, navigate, and understand. A good user interface helps you build trust by making people feel like they are in control of their experience on your website or mobile app, which leads them to make purchases or sign up for services that benefit both parties involved.
Good UI can be visualized as a relationship between the user and the product/service being offered. The better their experience is through good design standards, the more likely they will want to continue using what you are offering.
Session recordings are representations of actual actions taken by visitors while browsing a website. On desktop and mobile devices, recordings capture mouse movement, clicks, taps, and scrolling across multiple pages.
Session recordings, also known as user recordings, are used to gain a true understanding of how users interact with a website, which helps fix issues, improve UX, and ultimately improve conversion rate.
Hotjar
Hotjar is one of the most recent analysis tools designed to assist marketers in better understanding their customers. Hotjar calls itself an all-in-one tool because it includes both analytics and user feedback collection. This tool is designed to assist you in understanding what visitors do on your website. The highlight of Hotjar is that it combines a variety of essential analytical functionalities with user feedback tools on a single platform.
As we know, the user experience is fundamental and therefore, there are multiple tools to find out how a user behaves on your website, but with Hotjar, all the features are consolidated into a single app. The following are the features that you will get once you land on Hotjar.
Advantages of Using Hotjar
Cost Effective
Hotjar's main advantage is that it combines a collection of complementary tools into a single piece of software. This makes it a very appealing economic solution. Hotjar provides a variety of progressive offers based on the number of daily views of the site and tailored to the client, who can be an individual, a company, or an agency. Hotjar offers a number of plans to choose from.
Basic: Free sessions are limited to 35 per day and up to 1050 per month.
Plus: 100 daily sessions and up to 3000 sessions per month for $32 a month.
Business: It is a recommended plan with 500 daily sessions for $80 per month.
Scale: Unlimited daily sessions with full access to every feature for a negotiable plan.
The second benefit of this software is its ease of use and interpretation of the data it collects. At the same time, it would have been a stretch for a tool designed to help you improve your site's UX to be difficult to use.
Compatibility
The majority of sites are hosted on WordPress or a CRM. A tool must provide a plugin or integration compatible with a CRM, particularly the most important of them all, WordPress. As a result, it is logical that hotjar integrates with the latter, and rather easily at that.
Easy Installation
It is not enough to provide compatibility but it is also critical that installation be simple. Hotjar touts its ease of use on WordPress and elsewhere, claiming that installation takes only a few minutes thanks to tracking code that only needs to be installed on the pages that need to be monitored.
Customer Service
This is an important point to emphasize because far too many overpriced tools fail to provide assistance to their customers. As a result, the high availability of Hotjar customer service, regardless of subscription level, is greatly appreciated.
Free Alternatives
Hotjar is software that improves your marketing strategy by allowing you to understand user behavior on your site in order to improve the UX and conversion rate. You no longer need to interpret numbers with Hotjar instead, you can clearly understand your users through recorded sessions. With all the positive outcomes that Hotjar provides to a website, it must be noted that it is paid software. User experience is as important for small websites that have just started their business, as any other big names. But the startups who have invested in their business can not afford a paid tool to monitor user behavior.
In order to solve the issue regarding a paid tool, Microsoft just launched their free tool by the name Microsoft Clarity, with advanced features to improve the user experience on your website through session recordings for unlimited visitors and many more.
What is Microsoft Clarity?
Microsoft Clarity provides useful information about how users interact with web pages. Google Analytics is not a competitor of Microsoft Clarity. Instead, it complements Google Analytics to the point where you can connect the two and gain even more user behavior insights using the imported data.
Features of Microsoft Clarity
Click Heat Maps
Data from click heatmaps can be displayed for a single page or for a group of pages. This data can be refined and segmented further using filters to drill down and see how different users interact with web page elements.
The page has multiple filters to choose from, so you can have an in-depth analysis of your website. It also shows the comparison between the two components for a better understanding.
Scroll Heat Maps
Scroll Heatmaps display how far users scroll on a web page. Like all other Clarity features, filters can be applied to the Scroll Heatmap to see how different users scroll through a page. Scroll Heatmap data is extremely useful because it shows how far users scroll before clicking a call to action. Scroll heatmaps can also assist in determining whether or not users are reaching a call to action or important information.
If users are not reaching specific content and are exiting the site without converting, the scroll heatmap data will show where users are leaving your site.
In the above, you can see that the Heat Map provides the scroll data with the percentage for the number of visitors, scrolls, and the visitor count too.
Session Recordings
The Clarity session recording feature records and replays user journeys through the website. It demonstrates how users interact with site navigation, calls to action, search functionality, and other on-page elements. Session recordings show publishers whether site navigation and links help users find the content they want, and they can also show which on-page factors, such as calls to action, aren't working.
Rage clicks
Dead clicks
First clicks
Last clicks
Quick backs
Excessive scrolling
can all be identified in the session recordings.
Clarity Session Recordings provide useful information that can be used to boost sales, affiliate clicks, ad clicks, and site visitor satisfaction. Clarity Session recordings are an effective way to learn about user behavior and improve web page and website performance. A user can filter the data in the session panel on the left to isolate a variety of data types. Individual sessions can be selected and viewed by clicking on the boxes. Additionally, one can use the Filters button at the top to select from a variety of data types, such as user devices and so on. When you click the Filters button, you will be taken to a web page full of filters.
Clarity Dashboard
Microsoft Clarity Insights is a feature that uses the power of Deep AI and Machine Learning algorithms to surface actionable insights from Clarity analytics data. Clarity monitors session recordings for JavaScript errors, rage clicks, and dead clicks, as well as browsers and user groups to monitor.
Final Reflections
Behavioral science plays a fundamental part in designing the layout of the website. It helps us analyze which design can work for users and which design can be off-putting. Designers around the world spend hours and hours understanding the correct user behavior, and this is their full-time job. Even the colors and placement of content are crucial in building a user-interactive website. And Microsoft Clarity can provide all these insights for you. It is not an SEO tool, but it can help you study your user behavior and optimize your site for it, which will help Google see that your site is configured for the best UX possible. This allows you to develop a more effective SEO strategy.
In this article, we have possibly compared the paid tool Hotjar with Microsoft's free version of it, Microsoft Clarity. And with all the features like user session recording, heatmaps, and insight, we can say that Clarity provides way more efficient because they are working with AI and machine learning technologies. Though it can not be ignored that Hotjar is used by top names around the world. So, with all the detailed explanations, we will leave it to you to decide which one of these two tools is best suited for your website.