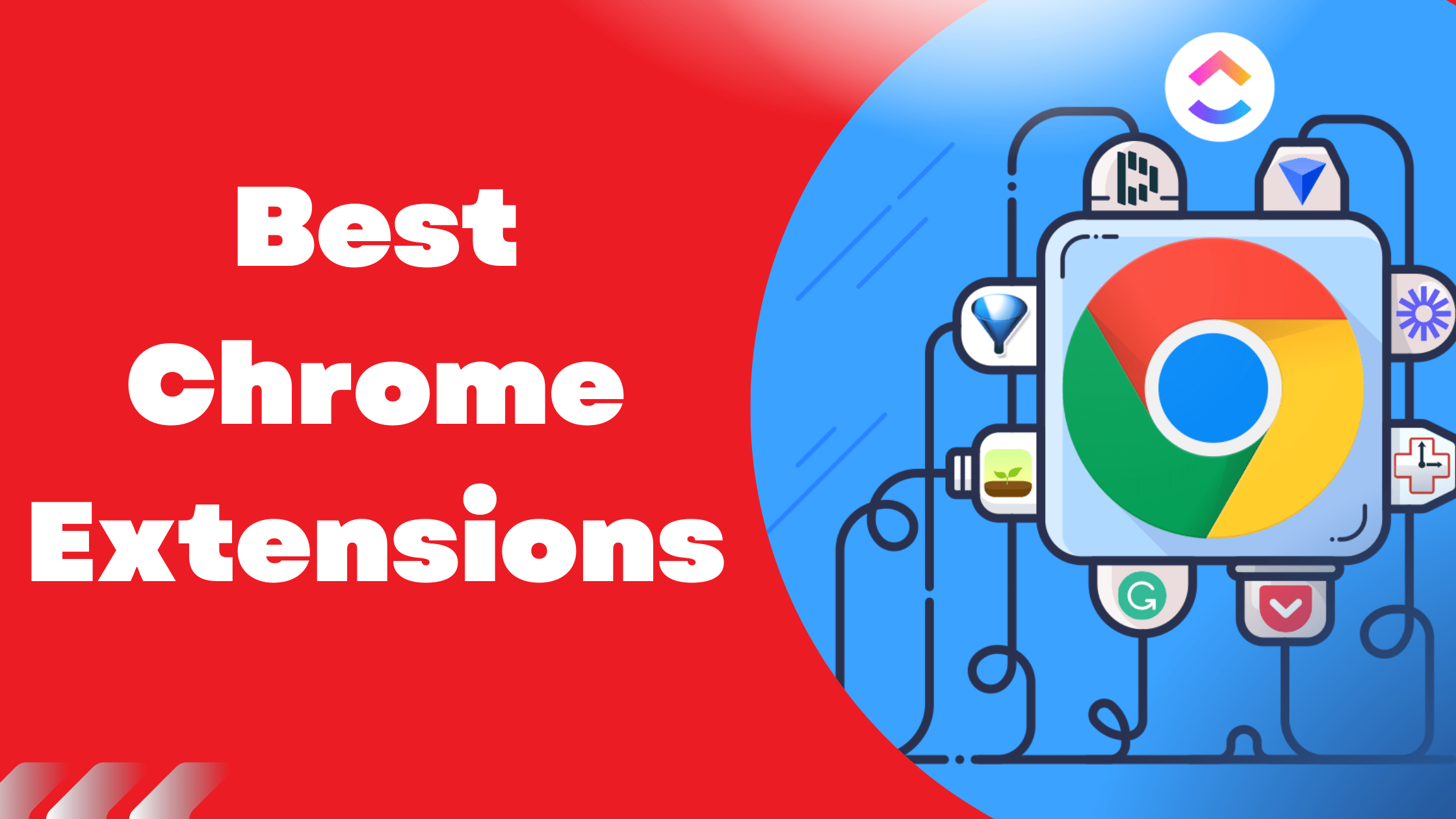 Among the latest developments in science and technology, there is a constant advancement in digital medium. People are working toward making every aspect of our life entirely digital to improve life on the internet. In our day-to-day life, we use different browsers to access the world of digital information, like Mozilla Firefox, Opera, and many others. But one of the most used and best is Google Chrome. The browser has multiple functionalities unavailable in any of its contemporaries. And to make the browsing experience simpler, Chrome has introduced extensions. The extensions are available to help out with our daily activities on browsers.
Here, this article will discuss everything you need to know about Google Chrome and its extensions. Also, we will introduce some beneficial extensions.
What Are Google Chrome Extensions
Google Chrome extensions are programs installed in Chrome to alter the browser's functionality. Extensions include adding new features to Chrome or changing the program's existing actions to make it more user-friendly.
The following are examples of the types of functionality a Google Chrome extension can add to Chrome.
Trying to prevent ads from being displayed.
Optimizing memory usage.
Creating to-do lists or taking notes in Chrome.
Management of passwords.
Facilitating the copying of text from a website.
Secure your web browser while protecting your privacy.
Essential functionalities can be added to help with your daily tasks with the help of extensions. But apart from this, there are many other extensions as well.
How to Add Chrome Extensions
Here, we will demonstrate some simple steps to add chrome extensions to your Google Chrome.
Open Google Chrome and go to the Chrome Web Store. Click here to access the Chrome store directly.
You can search for the extensions that you want to add, or you can explore some of the suggested ones.
Once you have your desired extension, click on the Add to Chrome button.
There will be a pop-up for confirmation. Go ahead and click on "Add extension", which will incorporate the changes into your browser.
You can customize the settings for some extensions and restrict the pages where you want to see the extensions.
Useful Chrome Extensions
LanguageTool
We have all heard of Grammarly, and it is indeed one of the best grammar-checking tools out there, but the only problem is that if you want to use Grammarly to its full potential, you have to pay some amount monthly. But here is an alternative to Grammarly, which is a free chrome extension and has more features to offer than Grammarly.
This free extension uses the grammar and style checker Language Tool to ensure that your writing is error-free. Language Tool detects errors that a simple spell checker does not, such as grammar issues, frequently confused words, and punctuation mistakes. Language Tool also provides style suggestions to help you improve your writing, such as synonym substitutions for repetitive words, concise rephrasing of wordy sentences, and formal alternatives to commonly used expressions.
Language Tool also includes a personal dictionary for exceptions or words you may frequently use but do not find in a standard dictionary. It will learn to recognize these words in the dictionary for future grammar checking and proofreading. The Language tool, unlike other services, supports over 25 languages, including English, Spanish, French, German, Polish, and Russian.
Heurio
Heurio is an extension to change the way you review websites. Using the extension, you can make comments and collaborate directly on any live website. Leave prioritized notes, assign actionable change requests, and conduct user-friendly and collaborative UX or copy reviews.
Heurio can make the following changes to your review:
Transformation of heuristic evaluations, UX audits, and remote user testing.
Make UX reviews, keep track of changes, and improve cross-team collaboration.
Keep track of development feedback, report bugs, and interact with designers.
Improve communication and expedite website approval.
Change the copy and track content ideas directly on live websites.
During a brainstorming session or a workshop, manage real-time website reviews.
Heurio enables effective real-time visual communication on your website. Analyze and prioritize comments to provide concise and actionable feedback.
EditThisCookie
As its name suggests, EditThisCookie is a cookie manager. This extension can add, delete, edit, search, protect, and block cookies. Inspired by Google Chrome's lack of good cookie managers, it is created as a simple yet handy extension that allows you to do anything you will ever need to do with cookies.
The following are the features that the extension provides.
Delete any cookies.
Replace any cookie.
Create a new cookie.
Look for a cookie.
Keep a cookie safe (read-only).
Cookies should be blocked (cookie filter).
JSON cookie export, Netscape Cookie File
JSON cookie import.
Any cookie's maximum expiration date should be limited.
Dark Reader
For all dark-mode lovers, here is an extension that you will immensely love. This eye-care extension enables night mode by dynamically creating dark themes for websites. Dark Reader inverts bright colors, creating high contrast and easy nighttime reading.
The brightness, contrast, sepia filter, dark mode, and font settings can be changed. Dark Reader does not display advertisements and does not send user data anywhere. It is entirely open-source.
Checkbot
Checkbot is a powerful website testing tool that explains how to improve your website's SEO, page speed, and security. Checkbot crawls hundreds of pages at once, looking for 50+ common website problems based on Google and Mozilla's web best practices.
It helps in SEO and Page Speed Tests like Security Headers, HTTPS, and mixed content checkers. duplicate page contents, ALT image tags, URL naming, meta tags, and many more features.
Coupert
Coupert finds coupons for you, applies the best coupon code at checkout, and pays you cashback. So you no longer need to look for a coupon code or a cashback offer.
With Coupert, the best automatic coupon finder and cashback extension, you can always find the best promo codes online and apply them to your purchase automatically at checkout.
Furthermore, Coupert offers the best cashback rates for thousands of online stores such as Walmart, Macy's, Booking.com, eBay, Forever 21, and Finish Line. Coupert is also an astute AliExpress coupon hunter. Add to Coupert today and start saving money with a single click.
Motion
Motion DevTools is a Chrome extension that allows you to inspect, edit, and export CSS and Motion One animations.
Interact by pressing the record button. CSS and motion detection A single animation is plotted on a traditional timeline interface. Scrub through and replay your animation from any point using the playback controls.
Keyframes can be added, moved, and removed. Edit values and ease with custom controls, and your changes will be reflected in real-time on the page.
Have you perfected your animation? To generate code instantly, click the export button. Any animation is easily exported into CSS transitions, CSS animations, or Motion One.
Unhook
A browser extension allows you to disable YouTube distractions such as the recommended sidebar, end-screen video suggestions, user comments, the homepage-related video feed, the trending tab, turn off autoplay or annotations, and more. Toggle the options in the popup to personalize your YouTube experience.
Compatible with mobile YouTube, m.youtube.com, on Android via Kiwi Browser or Yandex Browser. It also works with video embeds. Now hide YouTube videos, comments, the shorts tab, the suggestions wall, the homepage recommendations, trending, and other distractions with Unhook.
Scribe
It creates step-by-step instructions automatically. Scribe's instant process documentation, complete with text and screenshots, saves any team 20+ hours per month.
You must press the "record" button and walk through the process you want to share. Scribe tracks your mouse movements and keystrokes to generate your guide in real time. Answer questions, create SOPs, and train teammates as soon as possible.
Step-by-step instructions are generated automatically.
Text, steps, and images can all be customized.
One-button sharing.
Simple to integrate into any knowledge base or CMS.
Auto-redaction for sensitive data.
High-level security and controls.
Page Marker
Add text, lines, and highlights to any website! With Page Marker, you can draw on the web or PDFs with your mouse or touchscreen and save it to your computer. Draw, paint, and make marks on any webpage or website.
Pin the Page Marker red marker icon on your extensions to make it easier to find.
Begin by drawing with your mouse or touchscreen on any webpage.
To highlight lines of text, use the highlighter tool.
To add text to the website, use the text tool.
Click the corresponding undo/redo buttons to undo or redo your actions.
When you right-click the Page Marker icon, you can change the default color or thickness in the options menu.
Ending Notes
Chrome extensions are created to ease your browsing experience. Extensions are available for every action you perform on the web, from grammar checks during writing to a password generator and from cookie management to website building. Also, some extensions help you save money too.
If you have figured out the correct extension that fits your needs, download it from the Chrome web store.
Disclaimer: At startupnoon.com, we aim to provide authoritative, trustworthy, expert advice. Our staff thoroughly researches, edits, and fact-checks all content. If you think we can improve this article, please email feedback@startupnoon.com.