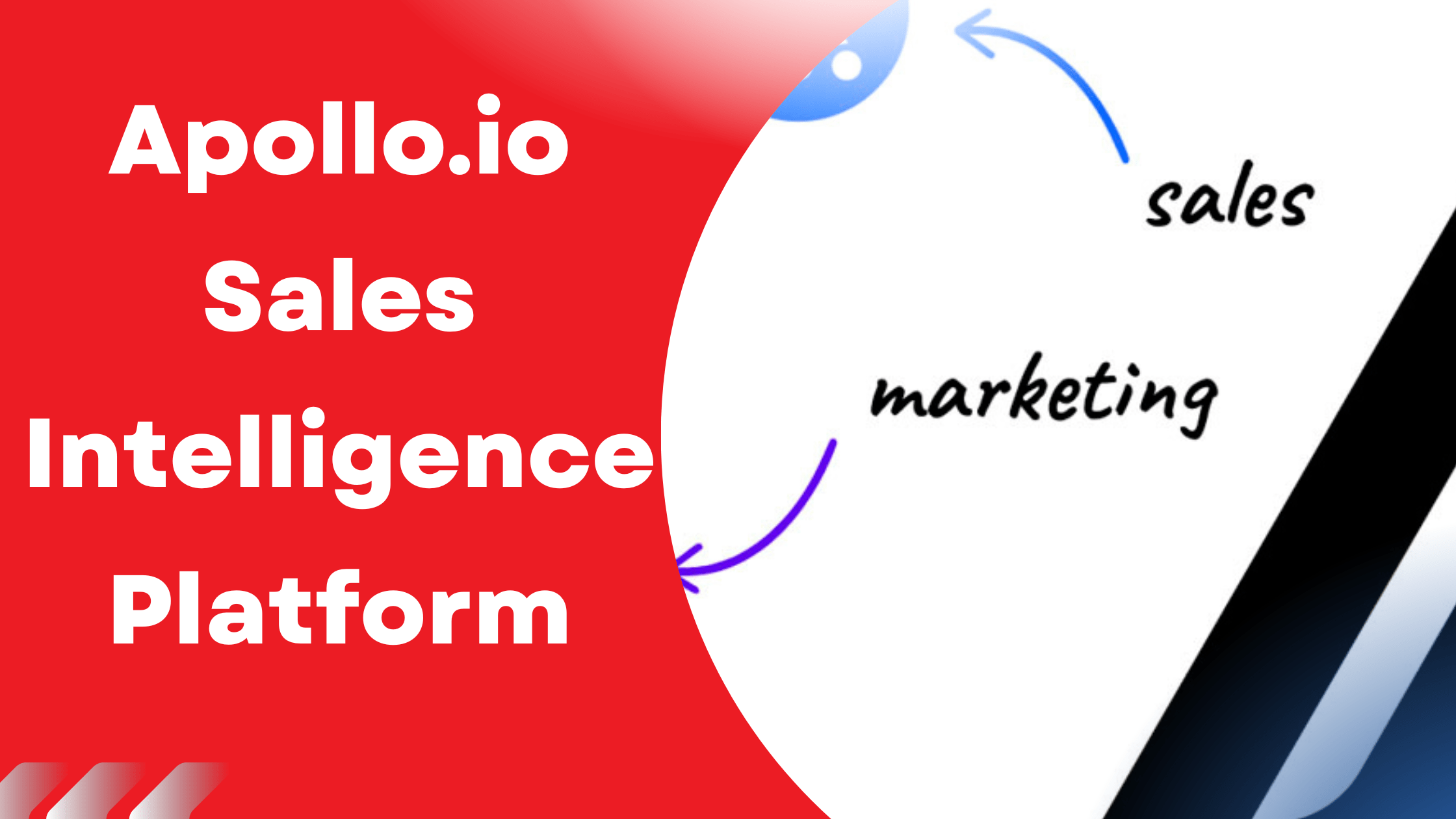 Apollo.io, based in San Francisco, was founded in 2015 is a lead intelligence and sales engagement platform trusted by over 16k paying customers ranging from rapidly growing startups to some of the world's largest global enterprises. Their community-based approach to crowdsourcing data ensures data accuracy while providing users with maximum coverage. The advanced algorithms and one-of-a-kind data acquisition methods assist over 500,000 sales professionals in enriching and analyzing prospect data in order to increase the quality of conversations and opportunities.
Recently, the integrated B2B sales platform closed a $110 million funding round led by Sequoia Capital. The round has the participation from existing investors as well including Tribe Capital and Nexus Venture Partners.
What is Apollo.io
Apollo.io is a sales intelligence platform that includes tools to help you prospect, engage, and drive more revenue. Sellers and marketers use Apollo.io to find new customers, connect with contacts, and develop a modern market strategy.
Apollo's B2B Database contains over 220 million contacts and 30 million companies, all of which have robust and accurate data. Teams use Apollo's Engagement Suite to effectively scale outbound activity and sequences. Apollo's Intelligence Engine is used to elevate the entire go-to-market process with recommendations and analytics.
Where Apollo is used
It is primarily a sales and engagement platform that assists businesses in obtaining data, targeting and prospecting customers, engaging more customers and growing business through data intelligence, and automating workflows.The platform is used for business teams and entrepreneurs that incorporates structured data into the workflow to aid in the execution, analysis, and improvement of growth strategy.
Key product modules comprises data, workflows, intelligence and platform. Data includes prospect checker, database, enrichment and job alerts. Workflows consist of sequences, dialer, task management, rules engine and extension.
Key Features
The Apollo database contains 220 million contacts. Apollo, in addition to having a robust database with key contact details such as direct dial phone numbers, up to date business emails, and job titles, that assists you in keeping track of things such as hiring data, job changes, funding, and Alexa rankings.
Apollo enriches CRM records with reliable data to target prospects and alerts you when it's time to contact them. Data enrichment helps you have a full profile of information for you to work with. Data decay is estimated to be 20% per quarter. So don't let your sales team operate with outdated information. Apollo assists in the correction, appending, and updating of data to ensure that you are working with credible, accurate, and up-to-date information.
The sales engagement features of Apollo assist sales teams in reaching the right people at the right time. Apollo lets you optimize emails, calls, and tasks to maximize efficiency and speed up your sales pipeline. Custom fields, safeguards, and automated rule sets tailored to the needs of your sales team will help you optimize your engagement strategy.
REST API allows you to query for data you want to add to your system. The Apollo API is available to do everything the UI offers, whether for people, organizations, opportunities, or more. The API also provides some additional functionality not available in the UI. Apollo's API is billed based on usage, and API calls are only counted when a request is sent to the server.
Native integrations with some of today's most popular and important sales platforms provide a truly seamless experience. Integrate LinkedIn, Gmail, Salesforce, HubSpot, Outreach, Salesloft, and other applications to improve your current workflows. Because Apollo helps you to improve your current workflow.
Apollo's platform is designed for security and is dedicated to data protection. The mission of Apollo is to build the most trusted and intelligent data-first engagement platform. Their robust technology and systems ensure that customer data is completely secure. Their security is validated by leading third-party auditors using the most widely recognised and internationally accepted information security standards.
Apollo's $110 Funding
Sequoia Capital led a $110 million funding round for Apollo.io, an integrated business-to-business sales intelligence and engagement platform. The funding comes after a period of rapid growth for Apollo.io. The company's annual recurring revenue has nearly tripled in the last year, according to a statement. Apollo.io has increased its paid customer base by nearly 60% to nearly 16,000 paying customers since announcing its Series B round of funding three months ago. The platform claims to have assisted over one million professionals from 160,000 businesses in automating their sales processes and doubling their revenue.
Sequoia Capital led this Series C round, with previous investors Tribe Capital, Nexus Venture Partners, and NewView Capital. Apollo's rise, and this funding round, is also a remarkable case study in how companies that have built effective tools can grow under difficult circumstances. COVID-19 undoubtedly heralded a shift toward more business being conducted virtually, lending credibility to online channels and creating a lot more demand for tools such as Apollo's.
Future Work
The funds will be used to accelerate the platform's product-led growth. It also intends to nearly triple its investment in product and engineering in order to maintain its position as the best platform in its category. To date, Apollo.io has raised more than $150 million.
"With this funding, we will be able to hire the best people in the industry, continue to build and market our category-leading sales intelligence and engagement platform, and accelerate our growth with marketing and sales investments," said Tim Zheng, cofounder and CEO of Apollo.io.
Disclaimer: At startupnoon.com, we aim to provide authoritative, trustworthy, expert advice. Our staff thoroughly researches, edits, and fact-checks all content. If you think we can improve this article, please email feedback@startupnoon.com.