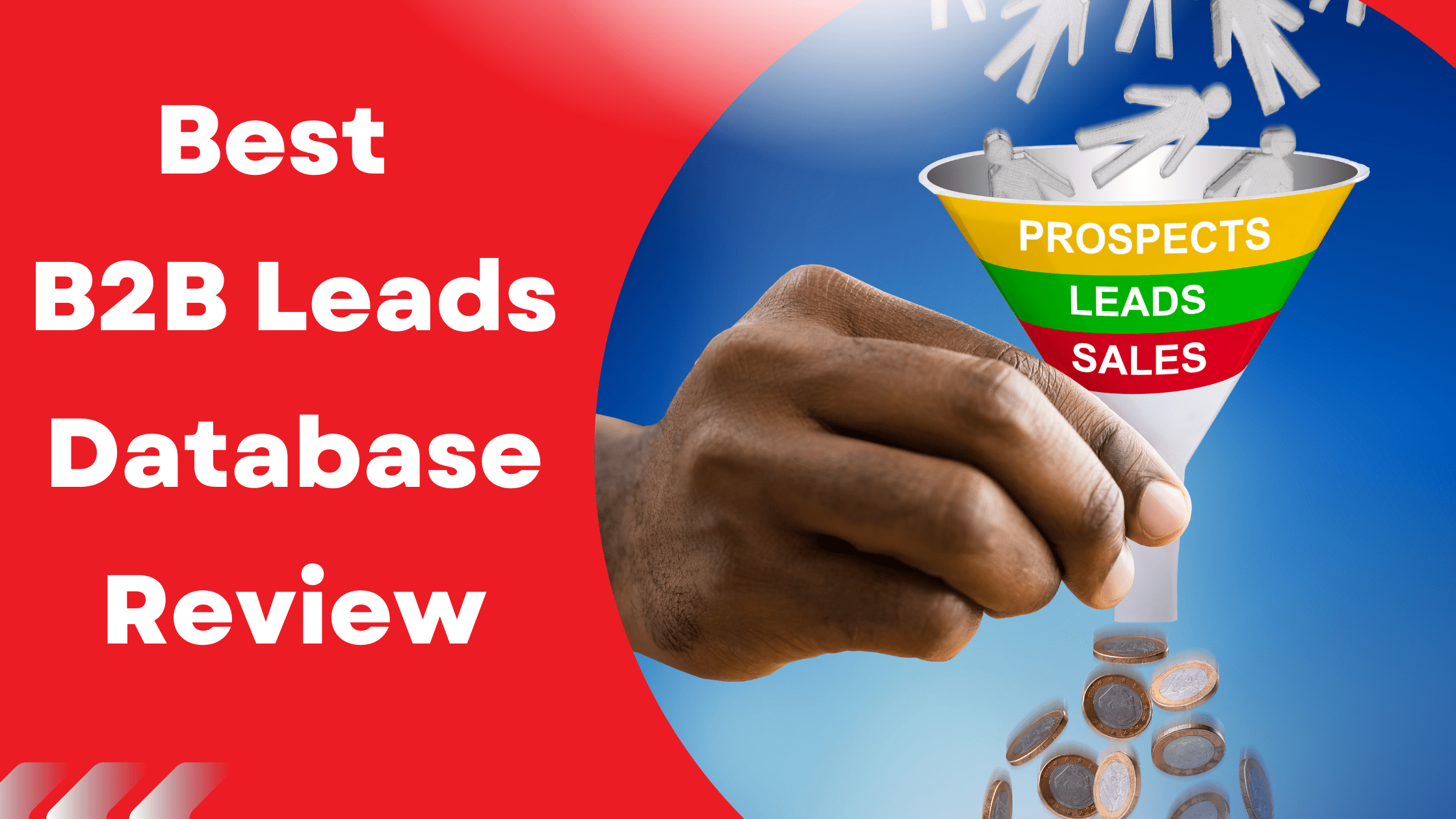 Investments are the most crucial decisions taken by any organization because it always requires thousands of dollars. Similarly investing in data is a big decision because you require up-to-date and accurate data for it being valuable for your organization. Data helps to keep the revenue engine running for your company. In this article, we will discuss some best companies to get a B2B leads database.
Disclaimer: List of best companies to get B2B leads database is created by experts by comparing the features and recommendation of peer-to-peer customer reviews. StartupNoon isn't affiliated with any of the sites mentioned below.
B2B Data Provider
The term Data Provider refers to a wide range of services such as sales intelligence, data hygiene, pipeline prediction, CRM management, and many others. In B2B commerce, the majority of businesses are irrelevant. This is why the B2B industry is rapidly evolving to provide data that is truly useful.
These data providers have end-to-end solutions that ensure functionality and enable entire sales teams to identify, engage with, and sell products or services to qualified buyers. To keep an accurate and diverse database, businesses must rely on a variety of data sources. You need to investigate and evaluate a variety of data providers before making a decision.
Types of B2B Leads Database
Paid B2B Database: It is a ready to use database of leads contacts purchased from an external provider.
Consensual Database: The majority of the data in the consensual database is derived from business interactions and connections. Other businesses collect contact information through sign-ups, which can then be obtained through data providers. This type of business-to-business database has a low level of engagement and a low conversion rate.
In-House Database: The business must handle data augmentation and enrichment for cleaned data using various web technologies. In comparison to a paid B2B database, an in-house database takes more time and effort to build and maintain.
Features Overview: B2B Leads Database Sites
Website
Features
Span Global Services
296M contacts, 80M Decision Makers,78 Data Attributes | Rated as 3.5 on TrustPilot (Average)
Ampliz
Best for healthcare data, 500 + credible sources, Chrome extension | Rated as 4.3 on G2.com (Good)
ZoomInfo
Most used and Most Famous, Based in US, CA. , 106M+ company data, Provide software to manage data | Rated as 4.4 on G2.com (Good)
Leadspace
Recognized as a leader in B2B database by Forrester, Platform Availability of at least 98%, 30+ Curated Data Sources, 70M+ Global Companies.
Rated as 4.3 on G2.com (Good)
Companies to Get Best B2B Leads Database
Span Global Services
Span Global Services specializes in increasing sales through business-to-business sales and data-driven marketing insights. To conduct an email campaign, the company offers one of a kind data consultation services through their data solution specialists. Span Global Services provides a database management system that incorporates insights into each campaign to provide precise, refined, up-to-date, and validated data about your target consumers. They also provide B2B email marketing lists such as technology, healthcare, geo-targeted email lists, and professional and industry-specific mailing addresses.
Ampliz
They gather data and statistics for businesses and customers based on information obtained from a variety of reliable sources, such as publicly available information, B2B directories, and others. Ampliz ensures that the data acquired remains the client's property by storing it in a carrier-class secure facility protected by firewalls and other security mechanisms. Single-pixel images are used to collect statistical data in order to count web page accesses.
ZoomInfo
ZoomInfo made a name for itself by selling access to its ever-expanding database of contacts, which now numbers more than 100 million people. ZoomInfo is now one of the most widely used business-to-business sales leads databases. It grew its database using its own web crawler. ZoomInfo makes it simple to prospect at scale, and it has recently added features such as org charts and projects, as well as the ability to pull intent signals from a variety of sources directly into the platform.
Leadspace
Leadspace provides assistance in the development of demand-generating technologies and processes. They provide data management intelligence solutions, inbound and outbound lead generation, and account-based marketing. It focuses on successful sales and marketing methods with its leading B2B customer data platform. By utilizing an accurate and tailored interaction method, the software aids in attracting ideal customers.
Matrix Marketing
Matrix Marketing enables quick and low-cost access to sales lead data. They offer digital marketing services to start-ups and small businesses. They identify and locate clients, as well as leverage the capabilities of the sales team. In addition, they provide precise consumer profiling based on extensive research and analysis.
It saves time by using a ready-to-use B2B leads database, contacts that are accurate and usable, sales management tools to increase sales by focusing on the right demographic, connecting with global decision-makers, and obtaining critical information about leading companies.
Disclaimer: At startupnoon.com, we aim to provide authoritative, trustworthy, expert advice. Our staff thoroughly researches, edits, and fact-checks all content. If you think we can improve this article, please email feedback@startupnoon.com.