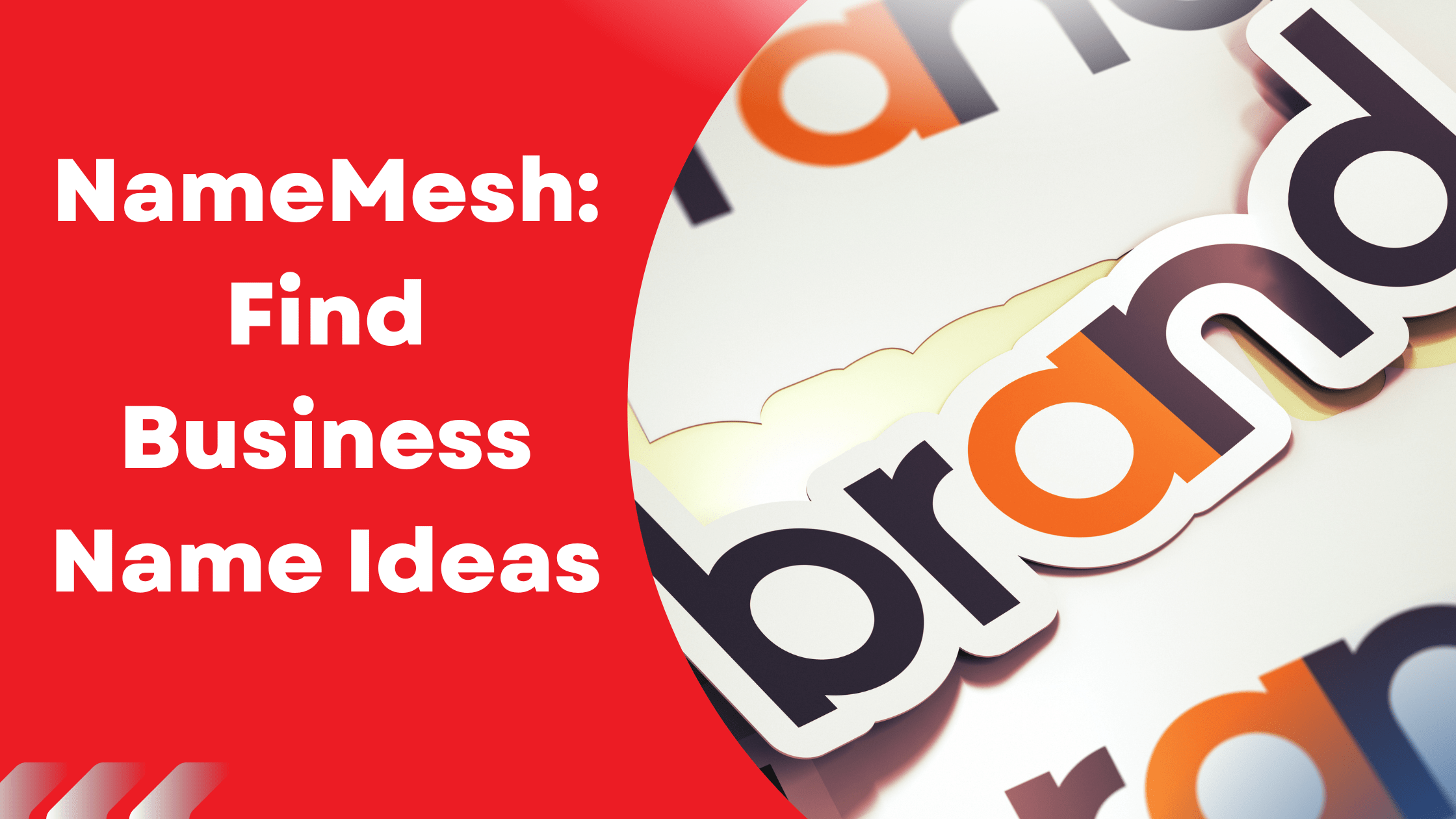 What exactly is NameMesh? Name Mesh is a completely free name generator. A name generator provides potential names for websites or enterprises. Use NameMesh to find name inspiration and explore what domain names are accessible to you.
Why Would You Want to Use Name Mesh?
Name Mesh is used to connect names. And look for available domain names for your websites.
NameMesh enables you to: Find domain names for websites
Look up company names.
Consider several business names and concepts.
Check the availability of domain names.
A domain name may only be owned by one person at a time.
You use NameMesh to generate name suggestions for businesses and websites. The goal is to select the appropriate name for your website as well as your company name.
If someone already has your ideal domain name, it is not accessible for purchase by you. You will need to look into different names, and NameMesh will give you with a plethora of options.
How Does NameMesh Work?
NameMesh uses synonyms, suffixes, and prefixes to produce various versions of a word or many words. Simply search for one to three terms related to your company name or website concept.
e.g.
Using the words you supplied, NameMesh will produce possible names and variants.
e.g.
footballpartysnacks.com
soccerpartysnacks.com
basketballpartysnacks.com
gamepartysnacks.com
Based on these suggestions, I now know that I have alternatives that aren't restricted to football, such as basketball party appetizers. In addition, I am aware that footballpartysnacks.com is available and might be a fantastic affiliate marketing website. Football party snacks may football party food ideas and accessories from affiliate programs such as Amazon.
What Is the Purpose of a Domain Name?
Websites must have domain names. Websites are an essential tool for every company.
The following are the reasons why you require a domain name:
You intend to start a business.
You intend to create a website.
A domain name is one of the most important aspects of a website. And is a critical component of your website. The domain name serves as the recognizable address for your website. It becomes the name of your website and company.
website = domain name + website hosting + website builder
If you do not intend to start a business or create a website, you do not require a domain name.
NameMesh Advantages and Features
NameMesh isn't the only domain name generator you can use. Lean Domain Search is another common generator. Each generator is made uniquely. As a result, each has its own own set of features and benefits for users. These properties are what distinguishes NameMesh as a decent name generator to utilize.
Categories of Domain Names
One of Name Mesh's most distinctive characteristics is domain name categories.
NameMesh categorizes all of your results when you enter a few words. Based on the words you input, each category provides you with a variety of possibilities.
Name choices are classified as follows:
These properties are what distinguishes NameMesh as a decent name generator to utilize.
Domain Name Categories
Common – find out what is available for ordinary domain name extensions like.com,.net,.org, and.co.
Similar – word ideas based on synonyms, antonyms, and thesaurus
New domain name extensions include.email,.link,.site,.app, and.shop.
SEO — precise keywords that inform search engines and visitors about the content of a website.
Short – character-length domain names in which the extension is part of the name.
Breaking, connecting, replacing, and rearranging words to create fun company or domain name ideas
Extra – extra name extensions like.ly,.it, and.me
Mix – combines popular words, suffixes, and dictionary terms to get new name possibilities.
Startup Company Name Maker
With Name Mesh's startup company name generator, you can get interesting company names with accessible domain names.
Multiple Words Maker
Depending on how many words you wish to investigate, Name Mesh provides two distinct generators.
Generator of 2–3 Keywords
Generator for 4 or More Keywords
Each generator is particularly intended to link the number of keywords in ways that result in 1001 concepts.
Confirming the availability of domain names
Only one individual may possess a domain name at a time. As a result, you can determine whether the domain name is accessible. NameMesh will inform you of which domain names are available and which are not. It can help you find available domain names.
If the website domain name you seek is already taken, Name Mesh can provide you with suggestions for names that are available for use.
What is the price of Name Mesh?
The domain name generator is entirely free to use. It is free to generate ideas and verify domain availability. When you buy a domain name from NameMesh, they make money. Regularly priced domain names range from $9.99 and $15.99 per year. Many domain registrar firms give a lower fee for the first year and the standard pricing for the second and subsequent years. NameMesh does not sell the domain name to you. They just link you to other accredited domain name registrars where you may purchase your domains.
Now comes the exciting part,
Name Leverage Join forces to obtain the ideal domain name for your website.
Step-by-Step Instructions for Using NameMesh
Navigate to namemesh.com.
Enter two or three terms that you want to investigate.
For example, football party appetizers
Press the Generate button.
Investigate the outcome
Suggestions for Domain Name Research
A few words of advice when it comes to purchasing domain names:
Have fun and be creative.
Before you buy, conduct extensive research.
Purchase from a domain firm that has a strong reputation.
Disclaimer: At startupnoon.com, we aim to provide authoritative, trustworthy, expert advice. Our staff thoroughly researches, edits, and fact-checks all content. If you think we can improve this article, please email feedback@startupnoon.com.