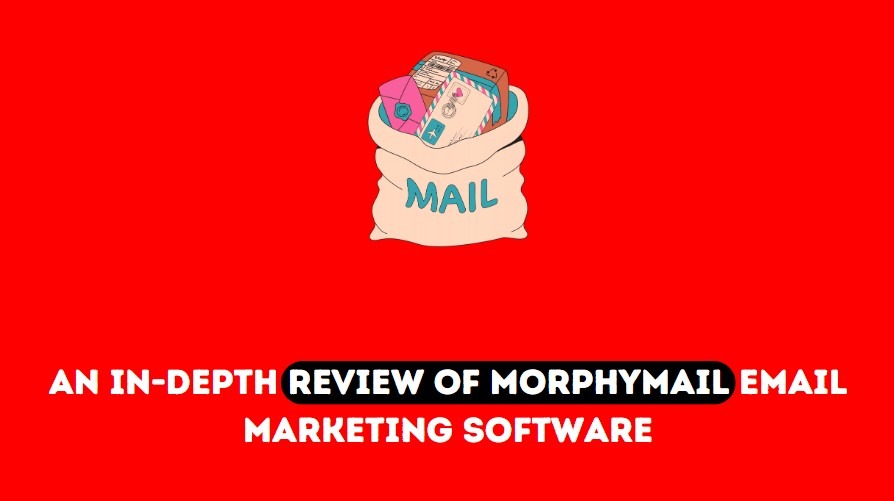 Email marketing remains one of the most effective digital marketing channels for businesses looking to engage with customers and drive conversions. With so many email marketing platforms to choose from, it can be challenging to select the right solution for your needs.
In this review, we'll take an in-depth look at MorphyMail to see how it stacks up against the competition. We'll examine its key features, pricing, ease of use, and customer feedback to help you determine if it's the right email marketing software for your business.
Overview of MorphyMail
MorphyMail is an email marketing and automation platform designed for small to medium-sized businesses. Key features include:
Intuitive drag-and-drop email builder with pre-designed templates
Automated email workflows and sequences
Contact management and list segmentation capabilities
Comprehensive analytics and reporting
Integrations with CRMs, payment processors, and other tools
Spam testing and deliverability features
Used by over 10,000 customers worldwide, MorphyMail aims to make professional email marketing accessible for SMBs. It competes directly with platforms like MailChimp, Constant Contact, and SendinBlue.
Key Features and Benefits
Let's take a deeper look at some of the notable features MorphyMail offers:
Easy-to-Use Email Builder
MorphyMail's drag-and-drop email builder makes it simple for anyone to create attractive, engaging emails with no coding required. It offers hundreds of flexible templates and blocks to get you started quickly. You can easily customize colors, fonts, images, and layouts to match your brand.
Email Automation
Automate your email campaigns based on time or user actions. Use sign-up forms to trigger welcoming messages, create customer re-engagement campaigns, and run email sequences to turn cold leads into customers. This automation saves time and enhances your ability to nurture contacts.
List Segmentation
Divide your contacts into subgroups based on preferences, demographics, behavior and other factors. Send targeted, relevant content to specific segments to improve deliverability and drive more conversions.
In-Depth Analytics
Gain insights into your email performance. Track opens, clicks, unsubscribes, bounces, and more. See which messages resonate best with your audience. The analytics help you constantly refine your approach.
Spam Testing
MorphyMail analyzes your emails to maximize deliverability and avoid spam folders. Preview your emails across different inboxes and devices to ensure your messages look great everywhere.
Integrations
Connect your email campaigns to your website, online store, payment systems, and other tools. Integrations with platforms like WordPress, WooCommerce, Stripe, PayPal, and Salesforce make managing your contacts and sending targeted emails easier.
Affordable Pricing
MorphyMail offers the following pricing and packages:
MorphyMail Desktop Pro (Lifetime): $59 one-time fee. Includes desktop email marketing software without footer logo, free SMTP setup, unlimited emails/subscribers, lifetime updates, and premium support.
Morphy Unlimited SMTP + MorphyMail Cloud + Morphy Contacts Finder (Monthly): $35/month billed quarterly. Includes unlimited SMTP server, MorphyMail cloud software, Morphy contacts finder software, free IP/domain changes, and premium support.
MorphyMail Web Pro + SMTP Setup (Yearly): $79/year. Includes web-based MorphyMail software without footer logo, free SMTP setup, unlimited emails for 1 year, lifetime updates, and premium support.
White Label Solution (Yearly): $375/year. Get MorphyMail, Morphy Contacts Finder, and Morphy Email Verifier rebranded in your own name/logo to resell. Custom website and payment gateway included. Keep all profits.
SparkPost SMTP Setup (Lifetime): $29 one-time fee. SparkPost SMTP setup for any email software including MorphyMail. User pays SparkPost directly for usage.
MorphyMail Web Pro (Monthly): $10/month. Web-based MorphyMail software without footer logo. Unlimited emails, cancel anytime.
Professional Email Templates (One-time): $24 one-time fee for 50 premium email templates.
Sales Kit (Lifetime): $59 one-time fee. 2400+ customizable sales document templates.
They also offer free Gmail/Google Workspace SMTP setup and alternate payment options.
Ease of Use
Numerous reviewers praise MorphyMail for its intuitive and easy-to-use interface. It's designed to allow you to create, manage, and monitor campaigns with minimal learning curve. Useful wizards guide you through settings. Drag-and-drop builders make crafting emails simple. Overall, most users agree MorphyMail is easier to use than some enterprise-level competitors while still packing robust features.
Customer Support
MorphyMail offers 24/7 customer support via live chat, email, and phone. Most customers describe the support team as responsive, friendly, and knowledgeable. Common issues are typically resolved promptly. This quality customer service enhances the software's ease of use.
User Ratings and Reviews
Here are some excerpts from verified MorphyMail user reviews on Capterra and SoftwareAdvice:
"I was impressed by MorphyMail Email Marketer's user-friendly interface, which made it simple to explore and make use of its potent capabilities."

Isabel T. Disanto
"Then, once it's launched, you can time; the analytics are fantastic. It allows you to track all the views, opens, clicks, etc. I love it."

Moon Cooper
"Email marketing is easy with this software. The delivering rate is quite good with a few percent for the email are bounce back."

Clifford Moses
"Simple interface, key features like click tracking, bounce back services, template engine."

Leola Mejia
MorphyMail earns an average rating of 4.5 out of 5 stars on both Capterra and SoftwareAdvice. The vast majority of reviewers are satisfied and highlight the platform's ease of use, features, deliverability, and analytics capabilities.
Alternatives to MorphyMail
The top competitors to consider are:
MailChimp – The leading email marketing platform for SMBs. Packed with features at affordable pricing. Slightly more complex interface.
Constant Contact – Long-standing solution focused on ease of use. Comparable features to MorphyMail. More expensive at scale.
SendinBlue – Combines email marketing, SMS, and marketing automation. Competitive pricing and features. Not quite as user-friendly.
MailerLite – Free plan available. Light on advanced features at paid tiers but very easy to use.
GetResponse – Has more marketing automation capabilities. Clunkier email builder but toolset is robust.
Each platform has pros and cons, but overall MorphyMail holds its own against the competitors when considering features versus ease of use and affordability.
FAQs About MorphyMail
Does MorphyMail have a free plan?
No, MorphyMail does not currently offer a free plan.
How many contacts can you have on MorphyMail?
You can send unlimited emails to unlimited contacts using MorphyMail.
Does MorphyMail integrate with CRMs?
Yes, MorphyMail offers integrations with customer relationship management platforms including Salesforce, HubSpot CRM, Keap, Zoho CRM, and Insightly. This allows you to easily sync email lists and campaign data.
Is MorphyMail GDPR compliant?
Yes, MorphyMail helps users follow General Data Protection Regulation (GDPR) requirements through its consent management tools, privacy policy builder, and compliance features. This gives customers confidence their campaigns meet data protection standards.
Can you send SMS messages through MorphyMail?
No, MorphyMail focuses solely on email marketing. For combined email and SMS capabilities, a tool like SendinBlue may be preferable. But MorphyMail delivers excellent results for email alone.
Final Verdict
For SMBs seeking an intuitive yet full-featured email marketing platform, MorphyMail is a top choice to consider. The combination of ease of use, competitive pricing, excellent deliverability and support makes it a complete solution for many small businesses.
While enterprise-grade solutions like MailChimp offer more advanced functionality, MorphyMail provides the core email marketing capabilities most SMBs need in an accessible package.
The two-week free trial makes it low risk to test out the software. Overall, MorphyMail strikes the right balance between simplicity and power. It deserves strong consideration for any business looking to boost its email marketing return on investment.
Disclaimer: At startupnoon.com, we aim to provide authoritative, trustworthy, expert advice. Our staff thoroughly researches, edits, and fact-checks all content. If you think we can improve this article, please email feedback@startupnoon.com.