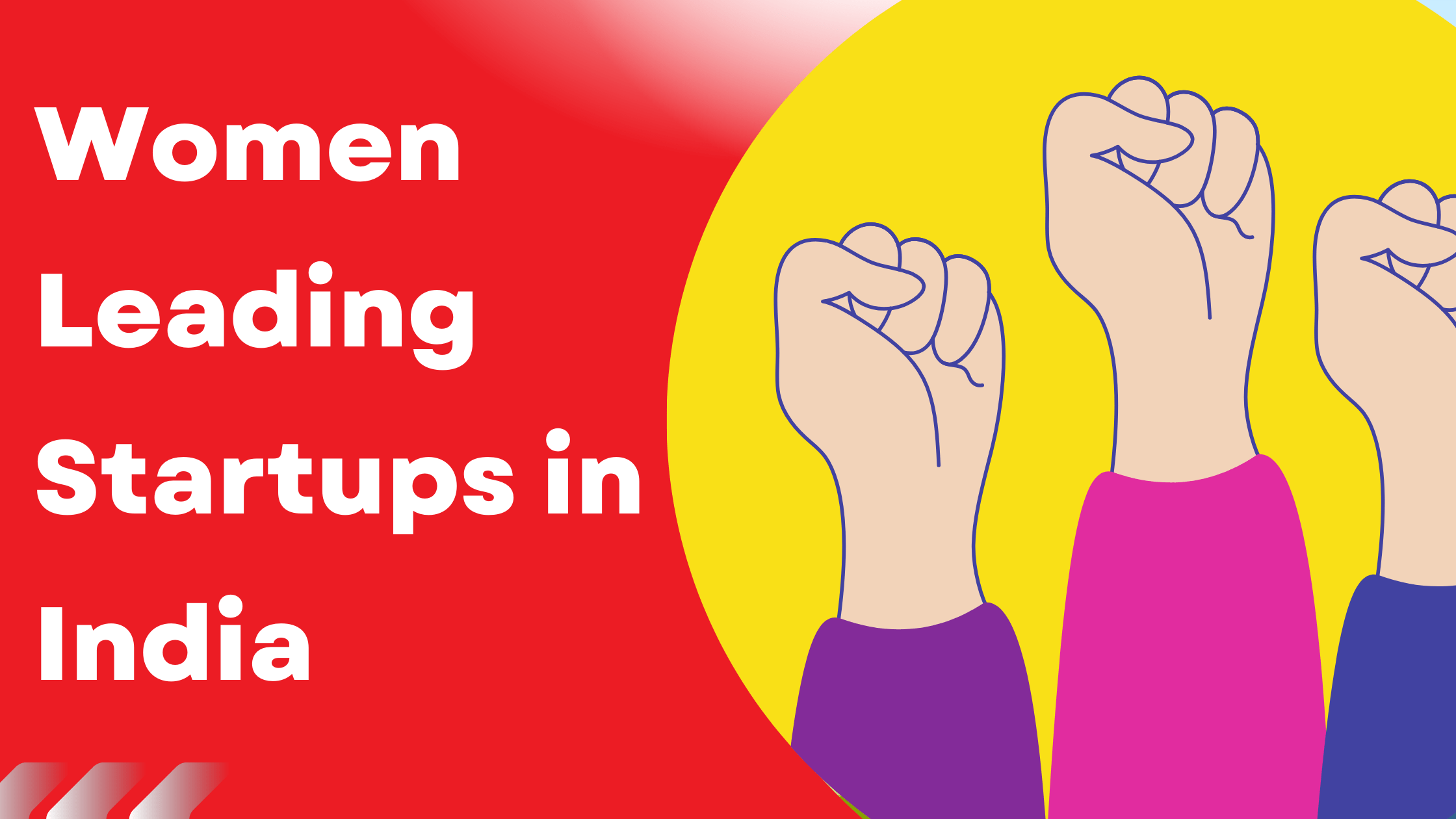 Firstly, let's ask ourselves who are women.
Are women somebody only for keeping?
Or women are somebody who is chained to household chores?
Or women are only the puppets of the people?
Women are only slaves to social values?
The answer is that women are a valuable part of our society or in simple words an asset. And if women do not exist then society would not be stabilized and in working conditions.
Also, India is a country where women are and can do things that also startups businesses in India that can help women to grow themselves and also the society grow and develop with her.
Are Women Leading Startups in India?
Yes, women are leading startup businesses in India. One person should not be shocked while reading it because out of 44 startups that flourished of which 4 startups belonged to women according to Business Insider that may see a low ratio against other gender but is higher in number in 2020.
In the unicorn club, 4 women have entered the competition and people are waiting for more women to enter the club. The name of the women is as follows:
1- Alagh's company named Mamaearth,
2- Rajoshi Ghosh's startup named Hasura,
3- Also Smita Seorah's business which is called LEAD School
4- Last but not least Dr. Garima Sawhney's business known as Pristyn Care
These are the four basic women with their respective startup businesses in India that shined and were highlighted in India's Unicorn Club.
But in this list, we would talk about women that are other than these 4 names that are written. The list is as follows:
1- Divya Gokulnath (Byju's):
The first person on the list is Divya Gokulnath who owns a startup business in India known as Byju's. According to Business Insider, Divya Gokulnath is the highest valued person who has a startup business in India. Her company is known as Byjus founded by a couple Byju Raveendran and Divya Gokulnath in 2011. Also in 2022, her company is exploring options to become more famous. And her estimated value is 15 billion $ and has many students registered with the company for more learning.
2- Ghazal Alagh (Mamaearth):
The next person on our list is named Ghazal Alagh who owns Mamaearth startup company in India. Another famous brand belongs to India. Ghazal Alagh was featured in Shark Tank in 2009 and in an American reality show that was the first start for her company. She came along with her husband Varun Alagh who started Mamaearth in 2016 which sells skincare and beauty products to many people across India. The brand itself comes under Honasa Consumer Private Limited which runs other brands as well.
3- Ruchi Kalra (Ofbusiness):
The third person in the women leading startup business in India is named Ruchi Kalra who is the owner of a startup named Of Business. Also, she founded a commerce and fintech company alongside Asish Mohapatra, Vasant Sridhar, Bhuvan Gupta, and Nitin Jain in 2016. The company OfBusiness came into the limelight in July 2021 after they gained from $160 million to the shine of $1.5 billion.
4- Radhika Ghai Aggarwal (ShopClues):
Radhika Aggarwal is also another famous part of startup business in India that is a leading company name Shopclues that is a shopping place that sells products, and goods to the people of India in every field like fashion, shoes, jewelry, technology, etc. people ask for and the website has it all to offer to people. Also, Radhika worked with Goldman Sachs and Nordstorm. Also, Shopclues is not her first experience in an entrepreneurship venture and experience.
5- Aditi Gupta ( Menstraupedia):
Aditi Gupta is mainly known as a social cause entrepreneur and also co-founder of Menstraupedia which is the company mainly for spreading and awarding people about menstruation and periods. She is glorified among the famous startup business in India as she founded along with her husband named Tuhin Paul. Aditi is one of the entrepreneurs who is awarding women about her body and mainly about periods and also menstrual hygiene to eliminate misconceptions and myths about periods. She is a gem for Indian society.
6- Shradha Sharma (YourStory):
Shradha Sharma owns another company named YourStory which is a startup business in India that is successful. Shradha Sharma was at one time at the peak of her career as she worked infamous media offices that includes Times of India and CNBC in Mumbai. Also while she was interacting with other entrepreneurs she get to know about their success stories it inspired her to channel those entrepreneurs that are rejected by famous media channels to let people know about stories about different success stories about hundreds of people hence she created an online portal for people to tell about their success stories for the whole world to learn, read and experience what those entrepreneurs experienced. YourStory was launched in 2008 with many stories on its website today.
7- Akanksha Anshu (RefundMe.in):
Akanksha Anshu is another name on the list who founded RefundMe.in in 2012. It is the platform that offers people, especially travelers, easy compensation in case when they face harsh and unfavorable situations that include flight delays, flight cancellation, and so on.
Akanksha is a successful entrepreneur who also has other 3 ventures in entrepreneurship as her background is mainly technology and she holds a degree in engineering. Also, she has experience in various roles of IT services to business growth in the international market. She has excellent experience in technology, marketing, and automation. Also, on the other hand, she is also a speaker, storyteller, traveler, and has spoken on many distinct topics.
Conclusion:
Women can do things when they have decided. And when she decides she performs tasks focused. What lesson does one woman need to learn? The question arises hence to answer it women need to be role models for other women, inspire them, tell them about the limelight, and share ideas to do startup business in India or anywhere in the world. Women need to strengthen, and encourage women to stand for their own selves in this world.
Disclaimer: At startupnoon.com, we aim to provide authoritative, trustworthy, expert advice. Our staff thoroughly researches, edits, and fact-checks all content. If you think we can improve this article, please email feedback@startupnoon.com.