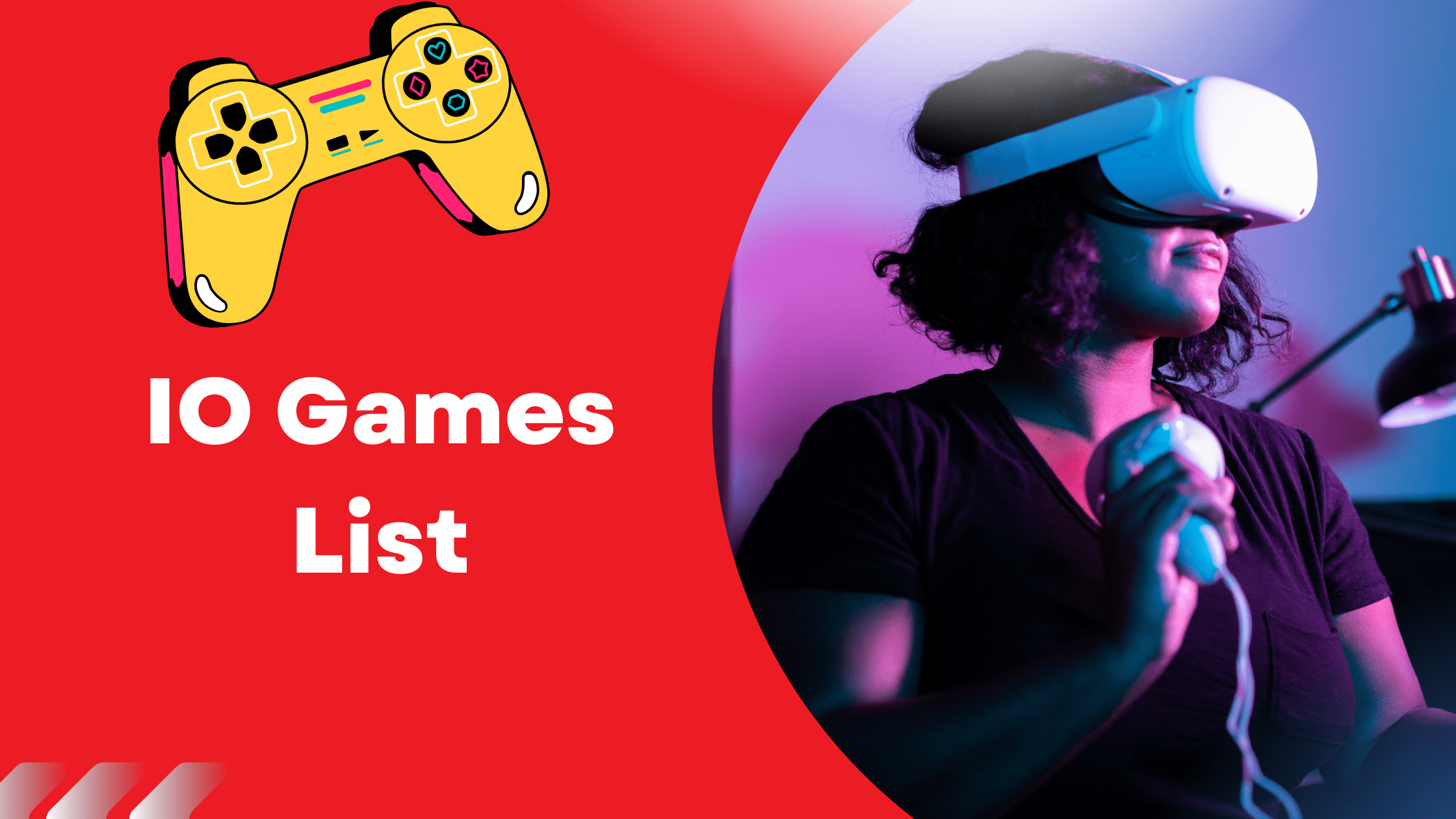 IO games are online multiplayer games that feature a ".io" domain extension in their website name. These games are usually simple, browser-based games that can be played by large numbers of people simultaneously. IO games often involve competition and battle, with players fighting against each other to achieve various objectives such as collecting resources, building a base, or surviving in a harsh environment. The games typically have minimalistic graphics, making them lightweight and easy to load on a variety of devices. Many IO games have gained popularity due to their easy accessibility and addicting gameplay, leading to large online communities and player bases.
Can I play IO games without downloading?
Yes, IO games are typically browser-based games that can be played directly in your web browser without the need for any additional software or downloads. Simply go to the website of the IO game you want to play and start playing. This is one of the reasons why IO games are so popular, as they are easily accessible and can be played on a wide range of devices without requiring any installation or downloads. Just make sure you have a stable internet connection to play IO games, as they are usually designed for multiplayer gameplay.
Can I play IO games with friends?
Most IO games are designed for multiplayer gameplay and allow players to join and play with friends or other players online. To play with friends, you can share the link to the game or invite them to join the game through social media or messaging apps. Some IO games also have the option to create private rooms, where you can play with friends or a specific group of players. This allows for a more personalized and controlled gameplay experience. Playing IO games with friends can be a fun and social way to enjoy these simple, but addictive games.
How to Unblock an IO Game?
If an IO game is blocked on your computer or network, you can try unblocking it using various methods. Here are some ways to unblock IO games:
Use a VPN: A VPN (Virtual Private Network) allows you to bypass network restrictions and access blocked websites and games. You can use a free or paid VPN service to access the IO game that is blocked on your network.
Use a Proxy Server: A proxy server can also help you access blocked websites and games by masking your IP address and location. There are several free proxy server websites available that you can use to access the IO game that is blocked.
Use a Web Proxy: Similar to a proxy server, a web proxy allows you to access blocked websites and games by hiding your IP address and location. You can find several free web proxy websites that you can use to unblock the IO game that is blocked.
Use a different browser: Sometimes, a particular browser may block certain websites or games. You can try accessing the IO game using a different browser, such as Firefox or Safari, to see if it is unblocked.
It is important to note that while these methods can help you unblock an IO game, they may not always work and could potentially compromise your security or privacy. Therefore, it is recommended to use these methods with caution and only access websites and games from trusted sources.
Is it free to play IO Games?
Many IO games generate revenue through in-game advertising, microtransactions, or sponsorships, which allows them to offer the game for free. Some IO games may offer optional in-game purchases, such as skins, upgrades, or extra features, but these are usually not necessary to enjoy the game. Overall, IO games are popular among players because they are easy to access and play, and are usually free to enjoy.
List of Games:
| Game Name | Brief Description | Website Link |
| --- | --- | --- |
| Agar.io | Control a cell and eat smaller cells to grow larger | agar.io |
| Slither.io | Control a snake and eat pellets while avoiding other snakes | slither.io |
| Surviv.io | Battle royale game where players fight to be the last one standing | surviv.io |
| Hole.io | Control a black hole and eat everything in your path | hole.io |
| Krunker.io | First-person shooter game | krunker.io |
| Bonk.io | Multiplayer physics game | bonk.io |
| MooMoo.io | Build a farm and defend it from other players | moomoo.io |
| Diep.io | Shoot other players while upgrading your tank | diep.io |
| ZombsRoyale.io | Battle royale game set in a zombie apocalypse | zombsroyale.io |
| Paper.io | Control a cube and claim territory by drawing on the map | paper.io |
| Starve.io | Build a base and survive the harsh wilderness | starve.io |
| FlyOrDie.io | Evolve your creature by eating other creatures | flyordie.io |
| Deeeep.io | Underwater adventure game | deeeep.io |
| Skribbl.io | Multiplayer drawing and guessing game | skribbl.io |
| Lordz.io | Build an army and conquer other players | lordz.io |
| Shell Shockers | First-person shooter game featuring egg characters | shellshockers.com |
| Hordes.io | Multiplayer battle game | hordes.io |
| Brutal.io | Control a ball and destroy everything in your path | brutal.io |
| Superhex.io | Claim territory by surrounding it with a line | superhex.io |
| Mope.io | Evolve your animal by eating other animals | mope.io |
| Foes.io | Multiplayer battle game | foes.io |
| Narwhale.io | Control a narwhal and fight other players | narwhale.io |
| Arras.io | Tank battle game | arras.io |
| Zombs.io | Build a base and defend it from zombies | zombs.io |
| Wormate.io | Control a worm and eat everything in your path | wormate.io |
| LittleBigSnake.io | Control a snake and collect orbs while avoiding other snakes | littlebigsnake.io |
| Tanksmith.io | Build and customize your tank before entering battles | tanksmith.io |
| Agma.io | Control a cell and eat other cells while avoiding being eaten | agma.io |
| Gartic.io | Multiplayer drawing and guessing game | gartic.io |
| Glor.io | Build and defend your castle from other players | glor.io |
| War Brokers | Multiplayer FPS game | warbrokers.io |
| Gats.io | Top-down shooter game | gats.io |
| EvoWars.io | Control a warrior and defeat other players | evowars.io |
| | | |
| --- | --- | --- |
| Battleboats.io | Control a battleship and fight other players on the high seas | battleboats.io |
| Doblons.io | Multiplayer pirate game | doblons.io |
| DatTank.io | Control a tank and defeat other players | dattank.com |
| Diep2.io | Control a tank and shoot other players | diep2.io |
| Bois.io | Battle royale game set in a forest | bois.io |
| Pikes.io | Control a knight and battle other players | pikes.io |
| Moomoo2.io | Build a farm and defend it from other players | moomoo2.io |
| Tankwars.io | Control a tank and fight other players | tankwars.io |
| Lordz2.io | Build an army and conquer other players | lordz2.io |
| Creatur.io | Control a creature and eat other creatures | creatur.io |
| Battl.io | Multiplayer battle game | battl.io |
| Sl4sh.io | Control a sword and defeat other players | sl4sh.io |
| Doomed2.io | Top-down shooter game | doomed2.io |
| Gobattle.io | Control a warrior and defeat other players | gobattle.io |
| Dodgeball.io | Multiplayer dodgeball game | dodgeball.io |
| TakePoint.io | Multiplayer FPS game | takepoint.io |
| BowRoyale.io | Battle royale game set in a medieval world | bowroyale.io |
| Goons.io | Multiplayer battle game | goons.io |
| Tank.io | Control a tank and defeat other players | tank.io |
| Vertix.io | Multiplayer FPS game | vertix.io |
| Snowfight.io | Snowball fight game | snowfight.io |
| Skyarena.io | Airplane combat game | skyarena.io |
| Yorg.io | Tower defense game | yorg.io |
| Solitaire.io | Classic solitaire game | solitaire.io |
| Inkwars.io | Multiplayer painting game | inkwars.io |
| Speedboats.io | Boat racing game | speedboats.io |
| Zombain.io | Battle royale game set in a zombie-infested world | zombain.io |
| Sworm.io | Control a worm and eat other worms | sworm.io |
| DeadWalk.io | Multiplayer zombie game | deadwalk.io |
| Zlax.io | Control a character and defeat other players with a battle axe | zlax.io |
| Pikes.io Brutal Squad | Control a knight and battle other players | pikes.io |
| HexSweep.io | Puzzle game where players must flag mines and avoid bombs | hexsweep.io |
| Fightz.io | Control a warrior and defeat other players | fightz.io |
| PiratesBattleRoyale | Battle royale game set on the high seas | piratesbattle.com |
| Drawaria.online | Multiplayer drawing and guessing game | drawaria.online |
| BulletLeague.io | Multiplayer FPS game | bulletleague.io |
| Devast.io | Multiplayer survival game | devast.io |
| | | |
| --- | --- | --- |
| Crazynite.io | Battle royale game set in a pixelated world | crazynite.io |
| Germs.io | Control a microbe and infect other microbes | germs.io |
| FallBall.io | Multiplayer soccer game | fallball.io |
| SquaddRoyale.io | Battle royale game set in a military setting | squaddroyale.io |
| CastleWars.io | Build a castle and defend it from other players | castlewars.io |
| Stomped.io | Control a monster and stomp other players | stomped.io |
| Dominate.space | Multiplayer space game | dominate.space |
| SkyRoyale.io | Battle royale game set in the sky | skyroyale.io |
| Anomal.io | Control a creature and eat other creatures | anomal.io |
| Farm Royale | Build a farm and defend it from other players | farmroyale.com |
| Boattle.io | Multiplayer battleship game | boattle.io |
| Snowfightio | Snowball fight game | snowfightio.com |
| Paper2.io | Control a cube and claim territory by drawing on the map | paper2.io |
| Nend.io | Control a ball and score goals in a soccer match | nend.io |
| Driftking.io | Racing game where players must drift to earn points | driftking.io |
| SpaceBlaster.io | Multiplayer space game | spaceblaster.io |
| Kize.io | Control a character and battle other players | kize.io |
| Taekwon.io | Control a martial artist and fight other players | taekwon.io |
| Megaspin.io | Control a spinner and knock other spinners out of the arena | megaspin.io |
| Bumper.io | Multiplayer bumper car game | bumper.io |
| Mygun.io | Top-down shooter game | mygun.io |
| Airport Clash 3D | Multiplayer airport management game | airportclash3d.com |
| Tap-Tap Shots | Tap the screen to shoot balls into the goal | taptapshots.com |
| Shapez.io | Control a character and collect shapes to grow | shapez.io |
| Happy Snakes | Control a snake and collect pellets while avoiding other snakes | happysnakes.net |
| Tangies.io | Control a ball and collect gems while avoiding obstacles | tangies.io |
| Arxarcana.io | Collect cards and build a deck to battle other players | arxarcana.io |
| CarArena.io | Build and customize your car before entering battles | carena.io |
| Wilds.io | Multiplayer adventure game | wilds.io |
| Gomoku.io | Strategy game where players must line up five pieces to win | gomoku.io |
| Painty.io | Control a character and shoot paint at other players | painty.io |
| VikingsVillage.io | Control a viking and build a village to survive | vikingsvillage.io |
| Cursor Knights | Control a cursor and battle other players | cursorknights.com |
| SmashArena.io | Multiplayer battle game | smasharena.io |