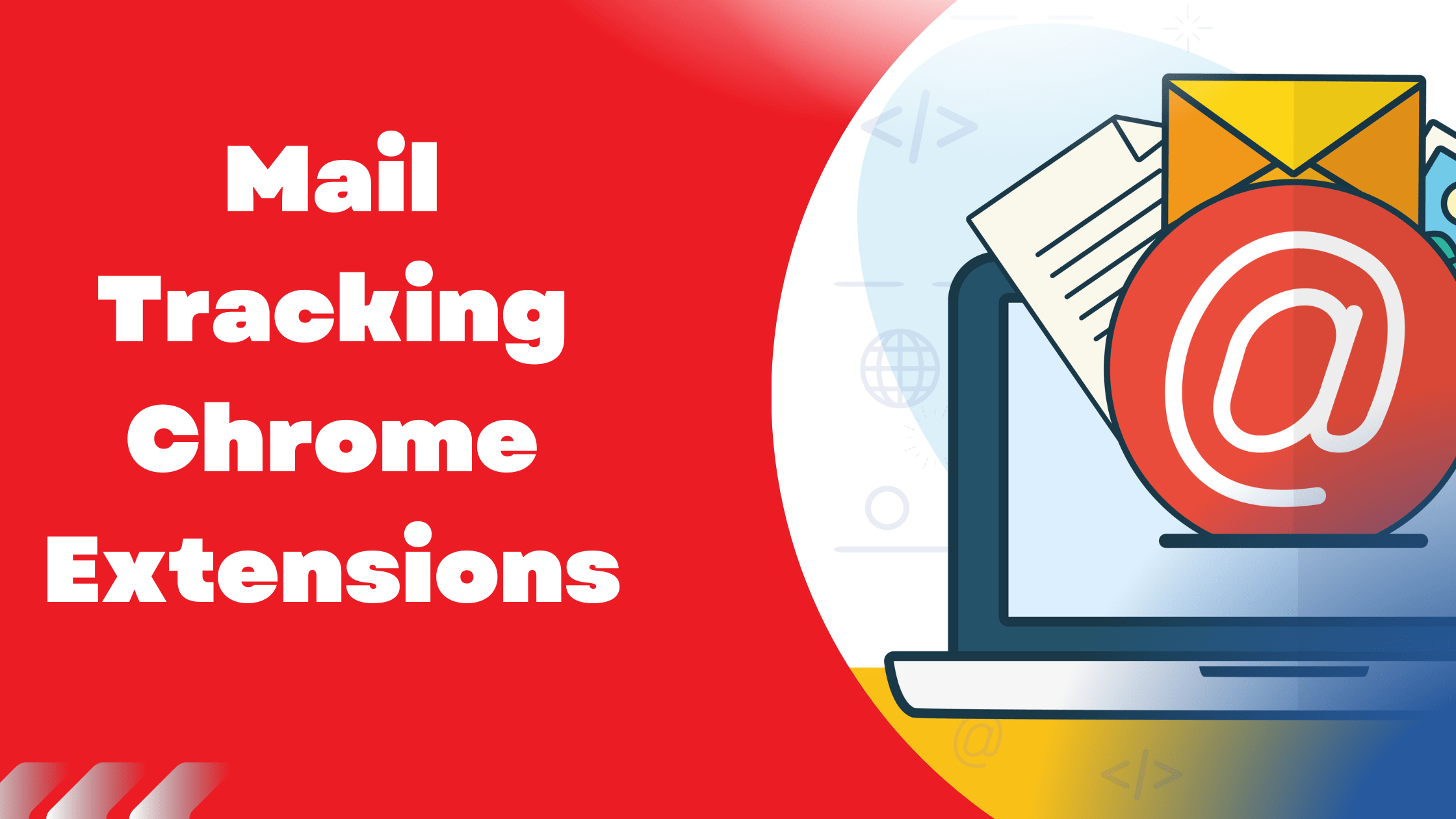 Email marketing has gained popularity in recent times as it is said to be one of the main platforms to reach an audience. Many people have started using email marketing as it is more personal contact with their desired person because email is one place that a person uses on a daily basis for work-related stuff or for newsletters, etc. In that way, it is more likely to grab their attention through emails. It is equally important to keep track of your emails and check how your campaigns are working. To make your life easier, mail tracking chrome extensions are there to save you from missing out on an important email.
Let's explore some top mail tracking chrome extensions and compare them to let you decide which one is best suitable for you.
Mail Tracking Chrome Extensions
There are various techniques for tracking emails and various parameters that people want to adhere to. There are three primary methods for tracking emails.
Some email clients support read receipts, which allows you to request a read receipt from an email recipient.
Tracking Pixels are 1px by 1px transparent images that are automatically attached to emails.
Trackable Links are links that are automatically modified with unique sets of characters.
Snovio – 100,000+ users (Verified by Google)
Snovio Email Tracker is a completely free and well-designed Gmail email tracking chrome extension that shows you which emails have been opened by your intended recipients, including the number of opens and link clicks, right in the Gmail interface, eliminating the need to handle external windows to track the message.
Some of the key features of the extension include.
Snovio Features
There will be no signature shown in your email.
Keep track of how many times the email has been opened.
Notify you every time an email is being opened or a link is accessed.
Seamlessly built in your Gmail interface.
The professional email tracking tool can be downloaded on Google Chrome through chrome extensions or click here:
This tracker extension can be tailored to your specific requirements and preferences. If you have multiple email accounts, you can specify which ones you want to track. When you're writing an email, you can choose to track individual messages. Simply click on the bell icon, which is located next to the send button. When the feature is enabled, the bell icon turns purple. If you want to disable tracking for this specific message, simply click on the icon again.
Snovio Plans & Pricing
Snovio offers multiple paid plans, but they have a 2 month free membership opportunity too. After that, they have multiple prices according to your organization's needs.
S – appropriate for startups solo entrepreneurs that have 1000 credits, 5000 unique recipients, CRM functionality with unlimited users.
M – used by small sales and marketing teams that have 5000 credits, 10000 unique recipients, CRM functionally and unlimited users.
L – used by the companies that want to enhance their outreach because it provides 20000 credits, 30000 unique recipients plus CRM functionality and unlimited users.
XL – used by established sales teams with 50000 credits and unique recipients each along with CRM functionality and unlimited users.
XXL – created for agencies and enterprises because it offers 1000000 credits and unique recipients with CRM functionality and unlimited users.
Saleshandy – 20,000+ users (Verified by Google)
Saleshandy is a sales enablement and cold email outreach software that allows you to send personally tailored email campaigns from your Gmail and Microsoft Outlook accounts. You can also track email statistics and use auto follow-ups to improve engagement with the tool.
You can download the chrome extension here:
Some of the key features of the Saleshandy chrome extension are
Saleshandy Features
You can connect Saleshandy with Zapier, just like most tracking software, to copy your email data analytics to your Salesforce or HubSpot CRM. This allows you to better segment customers, see customer relationships in a holistic manner, and trigger sales actions based on email engagement. This feature, however, is only available in Saleshandy's paid plans.
Personalized emails are one of the interesting features of Saleshandy, which allows you to create a campaign of your own. This can help you to connect with your recipient on a personal level because it shows that you have actually researched rather than bulk sending emails.
Follow-up emails are another important feature that helps to improve the response rates And Saleshandy has a feature to create personalized email sequences and send automated follow-ups.
SalesHandy Pricing
SalesHandy offers four pricing plans.
A free plan that only offers unlimited tracking.
Regular plan that has all the features from the free plan, including custom domains and mail merges.
Plus a plan that has everything from a regular plan but it also has automated follow-up with mail merges.
An Enterprise plan that has everything mentioned before and also high volume campaign support.
GMass – 200,000+ users (Verified by Google)
Note: Mail tracking is an additional functionality of GMass, this tool is specifically built to send mass emails via Gmail. If you requires an extension just for email tracking then GMass probably not the best fit for you.
GMass is a powerful email tracker and outreach tool used by employees at large corporations such as Twitter, Google, LinkedIn, and Uber to improve email campaign management. However, its outreach capabilities are not limited to large corporations. It's also ideal for solo entrepreneurs and organizations like schools who want to send email campaigns directly from their Gmail inbox.
You can download the extension from the link:
The features of this mail tracking chrome extension are
GMass Features
From your Gmail inbox, you can personalize your email outreach campaigns.
Detailed reports and analytics can be used to track campaign performance.
You can easily schedule emails and follow-ups.
Automate the process of sending follow-up emails.
In no time, you can perform extensive mail merges.
GMass Pricing
GMass also offers multiple pricing plans, which include
A free plan with automated mail tracking and 50 mails per day, as well as access to all other features.
The Minimal plan has unlimited email tracking and all features except follow ups.
Standard plan has everything mentioned in the minimal plus it removes the GMass footer from emails.
Premium plan has everything including automated follow ups.
Team premium plan has all the features and can work in a group of five.
---
What are Chrome Extensions
Extensions are small software programs that allow you to personalize your browsing experience. They allow users to customize Chrome functionality and behavior to meet their specific needs or preferences.
An extension must serve a single purpose that is well-defined and simple to understand. As long as everything contributes to a common goal, a single extension can include different features and a wide range of functionality.
What is Mail Tracking
Email tracking entails tracking email opens and clicks in order to follow up with leads, job applicants, and partners. It also includes monitoring the metrics of your email marketing campaigns to boost their quality and efficiency.
Conclusion
Chrome is still the most popular browser on computers, with nearly 68 percent of users using it. Gmail works fine in any browser, but several Chrome-specific extensions enhance the Gmail experience. Selecting the best mail tracking Chrome extensions does not have to be difficult. Simply go through the tools I've discussed here to see what works best for you.
Last Update: 29 Nov 2022
Disclaimer: At startupnoon.com, we aim to provide authoritative, trustworthy, expert advice. Our staff thoroughly researches, edits, and fact-checks all content. If you think we can improve this article, please email feedback@startupnoon.com.