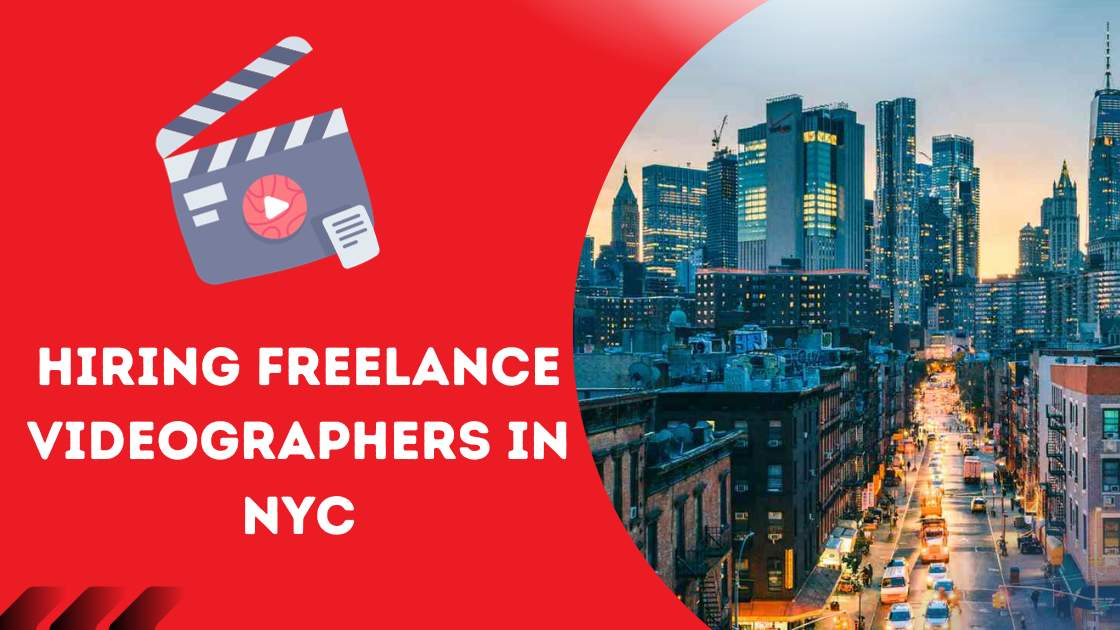 As a hub for media, entertainment, and creativity, New York City is home to some of the most talented freelance videographers in the world. Hiring the right videographer for your film, commercial, or other video project is essential to bring your vision to life.
In this article, we'll review some of NYC's top freelance videography talent and provide tips for finding the best fit for your needs.
Why Hire Freelancers in NYC?
Some key benefits of hiring freelance videographers in New York City include:
Abundant talent pool – With so many freelancers in NYC, you can find the perfect creative match for your project. Competition breeds quality.
Niche expertise – Want someone highly specialized in documentary films? Fashion videos? There's freelance videographers with those niche skills.
Flexibility – Freelancers allow you to scale up or down as your video needs change. Avoid getting locked into long term creative contracts.
Cost – Experienced freelancers often have lower overhead than large production houses, allowing them to offer competitive rates.
Local knowledge – NYC videographers have the connections and know-how to capture great footage in their own city.
Top Freelance Videographers in NYC
Here are some of the most talented NYC-based freelance videographers across a range of specialties:
Documentaries & Live Events
Stanley Petrovsky – Award-winning documentary DOP. Skilled at capturing live events and telling impactful stories: Website
Ania Nikiel – Experienced documentary filmmaker with background as TV news camera operator. Great eye for visuals: Website
Corporate & Commercial Video
Kirk Wisuri – Produces high-quality video content for businesses and organizations. Great at explaining complex topics simply: Website
Gabrielle Biggs – Specializes in video marketing content that drives results for brands and startups: Website
Music Videos & Concerts
Jacob Brackman – Has worked with top artists like Jay-Z. Brings creative vision and precision to music videos: Website
Matthew LeFevre – Produces stunning concert footage and conceptual music videos. Great visual stylist: Website
Fashion & Lifestyle
Sara Petty – Experienced fashion videographer. Captures the energy and aesthetics of NY's style scene. Website
Taylor Rand – Creates compelling lifestyle content for major brands. Skilled photo and video stylist: Website
Tips for Hiring the Right Freelance Videographer
Follow these tips to find the best freelance videographer in NYC for your particular project:
Review portfolios – Evaluate multiple videographers' reels to assess visual style and technical skills.
Check client lists – Review who they've worked with previously and the types of projects.
Interview – Discuss your vision, preferred production process, challenges foreseen.
Ask about equipment – Ensure they have access to the cameras, lighting, drones etc. you need.
Compare rates – Experienced videographers will have higher rates but the results tend to justify it.
Verify availability – Freelancers book up quickly, so make sure they can accommodate your timeline.
Check reviews/references – Get feedback from past clients on work ethic, results etc.
Get quotes – Have 2-3 videographers provide quotes for your full project scope.
Trust your gut – You'll be collaborating closely, so make sure your creative instincts sync.
By doing due diligence during the hiring process, you can confidently select a freelance videographer with the right skills and style for your specific video production needs in NYC.
Where to Find NYC's Best Freelance Videographers
Some top places to discover talented NYC-based freelance videographers include:
Production services marketplaces – Sites like Upwork, Behance, and ProductionHub showcase videographer profiles.
Social media – Many videographers promote their work on Instagram, Vimeo, YouTube etc.
Online portfolios – Most freelancers have a professional website showcasing their reels.
Referrals – Ask production contacts for videographer recommendations suited for your needs.
Industry events – Network at video/film industry events and conferences.
Local production schools – Students from top NYC film schools like NYU and Columbia often freelance.
With an abundance of incredible creative talent, New York City is hard to beat when you need to hire a freelance videographer. Follow the tips here to find the perfect videographer to bring your production vision to life.
Disclaimer: StartupNoon isn't affiliated by of the mentioned service providers, all of these local service providers listed on the post are backed by research from Google and listed based on the previous work history they have on public internet.
Disclaimer: At startupnoon.com, we aim to provide authoritative, trustworthy, expert advice. Our staff thoroughly researches, edits, and fact-checks all content. If you think we can improve this article, please email feedback@startupnoon.com.