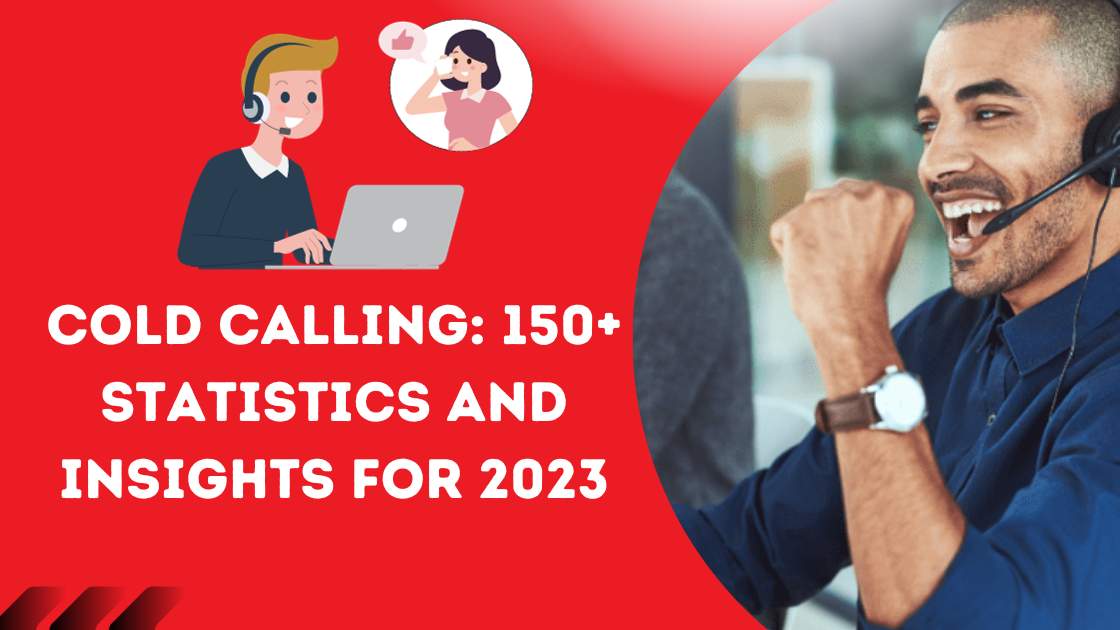 Cold calling remains one of the most tried-and-true lead generation tactics, yet it strikes fear into the hearts of many sales reps. In an age of digital marketing and social selling, does cold calling still deliver results? The data suggests it does, but only when executed thoughtfully.
In this comprehensive guide, we explore over 150 insightful cold calling statistics to help sales teams craft data-driven outreach strategies in 2024.
Defining Cold Calling
Cold calling refers to outbound phone calls made to potential customers who have had no prior contact with the sales rep. It is an unsolicited attempt to generate new business by introducing products/services to prospects that have not expressed interest.
Cold calling statistics highlight that it has morphed from an indiscriminate spamming of phone numbers to a more strategic process leveraging sales intelligence and script personalization. When done right, it can deliver tremendous ROI but still requires skill and tenacity to master.
Key Cold Calling Statistics – 2024
Here are some of the most important high-level statistics that indicate cold calling, despite its challenges, remains an effective sales tactic:
69% of buyers have accepted cold calls in the past year (Zippia)
82% of buyers have accepted meetings from cold calls (RAIN Group)
Cold calling has 2-3% meeting success rate on average (Cognism)
57% of C-level execs prefer to be contacted by phone (RAIN Group)
48% of sales reps fear making cold calls (ValueSelling Associates)
Sales reps make around 52 cold calls per day on average (Bridge Group)
Conversion and Success Rates
One of the biggest questions around cold calling is "What are the chances of success?" The conversion rates and meeting success metrics highlight that persistence and dedication to the process are required:
Less than 1% of cold calls convert into sales (martech)
Average cold call success rate is 2-3% for setting meetings (Cognism)
Top sales performers can achieve 10%+ cold call meeting success (Zippia)
1 appointment set for every 330 cold calls (Baylor University)
Sales reps get 1 lead for every 18 cold calls (Online Marketing Institute)
Just 13% of leads get proper amount of follow-up calls (Velocify)
10-100 cold calls needed for every 1 sale (Gong)
5-7% cold email response rate versus 2% for cold calls (Mailshake)
Lead Quality and Data
The quality of lead data has a massive influence on cold calling success. Bad data leads to wasted calls, incorrect contact info, irrelevant targeting and reduced credibility.
62% of sales teams rely on 40% inaccurate lead data (Demand Gen Report)
47% are frustrated by inbound calls with bad data (Trillium Software)
Inaccurate data causes 27% waste in sales efforts (SalesIntel)
74% of buyers choose first sales rep to demonstrate value (Fusion Marketing Partners)
Sales reps need lead enrichment before calling (ZoomInfo)
High-growth companies deploy sales intelligence tools (Bridge Group)
Times and Days for Cold Calling
Research indicates certain days of the week and times of day tend to perform best for cold calling:
Wednesdays & Thursdays have most calls over 5 mins (Yesware)
Mondays & Fridays worst days for cold calling (Novocall)
Afternoons better than mornings (PhoneBurner, Baylor)
4-5pm identified as best time frame (Crunchbase)
Peak cold calling times often missed by sales reps (ringLead)
Call Duration and Talk Time
The length of successful cold calls and the balance of talk time versus listening also impact results:
Successful calls last 5:50 mins versus 3:14 for unsuccessful (InsideSales)
14.3 mins average length for successful calls (ringLead)
Successful reps talk 67 secs versus 47 for others (ringLead)
Silence exceeds 10% of call duration on just 29% of successful calls (ringLead)
5-10 mins needed to convey value proposition (RAIN Group)
Customer Responses and Sentiment
How prospects respond to cold calls provides valuable insight for sales reps:
87% often ignore unrecognized numbers (martech)
57% of executives prefer phone contact (RAIN Group)
82% accept meetings from cold calls (RAIN Group)
50% of sellers think they avoid being too pushy (Crunchbase)
84% of prospects encountered pushy salespeople (Crunchbase)
Team Motivation Tips
Cold calling is tough, so keeping sales reps motivated is key. These statistics highlight why persistence pays off:
7-13+ calls often needed to generate sales-qualified leads (Online Marketing Institute)
It takes 8 attempts to reach a prospect on average, up from 3.68 in 2007 (Ovation Sales Group)
10.7 hours of cold calling needed for a face-to-face meeting (Cargill Consulting Group)
69% of buyers have taken calls from new companies recently (RAIN Group)
62% of prospects want to hear from sales reps about solutions for their pain points (RAIN Group)
Cold Email vs. Cold Calls
With email outreach so popular, how do cold calls compare as a lead gen tactic?
Cold email gets 5-7% response rate versus 2% for calls (Mailshake)
Cold calling considered more personal than cold email (SuperOffice)
Cold email scales better than cold calling (CloserIQ)
Cold calling enables immediate feedback, dynamic conversation (GMass)
Cold email cheaper than cold calling (Entrepreneur)
Cold calling builds trust and relationships better than email (Kolavel)
Voicemails, Follow-Ups and Call Frequency
Leaving voicemails and consistent follow-up are critical parts of effective cold calling:
80% of first cold call voicemails are never returned (Hubspot)
33% voicemail callback rate after 3 messages (Crunchbase)
92% of sales reps give up after 4 follow-up calls (Velocify)
It takes 5 follow-up calls after meeting to convert 80% of sales (Brevet Group)
Sales reps make 33 cold calls per day on average (Zety)
60 calls per day needed to meet sales goals (ringDNA)
Call Connect Rates
Actually getting prospects on the line remains a primary challenge for cold calling:
Only 28% of people answer cold calls on average (ServiceBell)
Just 10-15% of cold calls connect (Gong)
97% of cold calls go to voicemail (TeleNet)
85-90% of cold calls are never returned (TeleNet)
Average connect rates around 5-10% for cold calling (CloserIQ)
Costs and Investment
What does it take for sales organizations to fund cold calling?
Cold calling costs average $5.10 per call (Cargill Consulting Group)
Average cost of $408 per sales qualified lead (Tom Ferry Coaching)
Companies spend $2,000-$2,500 per sales rep monthly for cold calling (Gong)
Objections and Rejection Rates
Handling objections and overcoming rejections are fundamental skills for cold callers:
86% of prospects present objections on cold calls (Gong)
"I'm not interested" is the top cold call objection (CloserIQ)
24% immediately hang up on cold calls (TeleNet)
40% say cold calling is annoying or harassing (TeleNet)
11 objections surfaced per hour of cold calling on average (ringDNA)
Getting Past Gatekeepers
Gatekeepers can obstruct sales reps from reaching the right decision makers:
76% of cold calls blocked by gatekeepers (Corporate Visions)
Higher value deals often have more gatekeepers (Gong)
7 connect attempts needed to reach executives (Merrill Associates)
Executives take about 50 days to qualify for a sales call (CEB)
Ideal Call Length, Talk Speed and Dialogue Balance
Lengthy calls with excessive monologues are tiring for prospects, while quick soft pitches fail to convey value:
Successful calls last 3-5 minutes on average (ringDNA)
Talk speed around 125-188 words per minute optimal (ringDNA)
67 seconds avg monologue length for successful cold callers (ringLead)
29% call duration with silence for successful calls (ringLead)
B2B Cold Calling Insights
Reaching and engaging business buyers requires skill and preparation:
46% struggle to reach decision makers (ValueSelling Associates)
35% prefer calls for scheduling meetings (Hiya State of the Call)
27% say cold calling is very effective for new contacts (RAIN Group)
76% of top reps research before cold calls (LinkedIn Sales Solutions)
82% of prospects say cold callers seem unprepared (SiriusDecisions)
Just 50% of B2B reps achieve optimal call volume (ringDNA)
Industry and Role-Based Stats
Cold calling effectiveness varies based on:
Software has highest success rate (7.14%) versus insurance (1.3%) (Gong)
SDRs spend 45% of time cold calling, account execs just 4% (Outreach.io)
Millennial buyers need more cold call attempts (ValueSelling Associates)
When to Cold Call
Tuesdays & Wednesdays best days for connecting (ringDNA)
Thursdays have highest call completion rate (PhoneBurner)
Mondays & Fridays worst days for cold calling (CallHippo)
Late morning/early afternoon peak call times (ringLead)
Impact of Data and Personalization
Leveraging data intelligently boosts results:
Cold callers with insight sound 14x more competent (SalesLoft)
74% go with first seller demonstrating value and insight (Fusion Marketing Partners)
72% more appointments using personalized scripts (Outreach)
Contact data accuracy leads to 326% more connections (ZoomInfo)
Emerging Technologies and Trends
AI and new technologies are enhancing cold calling:
AI predicted to account for 40% of sales interactions by 2025 (Gartner)
75% of teams using AI for drafting cold emails saw 2x replies (Salesforce)
Contextual intelligence boosted connect rates 39% (Outreach)
AI conversion rate predictions enable better call targeting (Clari)
Bringing It All Together
Cold calling is undoubtedly challenging, but following data-backed best practices can set your sales reps up for success:
Prioritize lead list quality and enrichment
Leverage personalized, insight-driven call scripts
Enable reps to effectively leave voicemails
Track metrics like call duration for optimization
Experiment with AI-powered conversation intelligence
Motivate your team by highlighting cold calling wins
The future of cold calling will be about working smarter using technology, not just putting in more brute dialing hours. With these insights, sales organizations can turn cold calling into a scalable engine for revenue growth in 2024.
Disclaimer: At startupnoon.com, we aim to provide authoritative, trustworthy, expert advice. Our staff thoroughly researches, edits, and fact-checks all content. If you think we can improve this article, please email feedback@startupnoon.com.