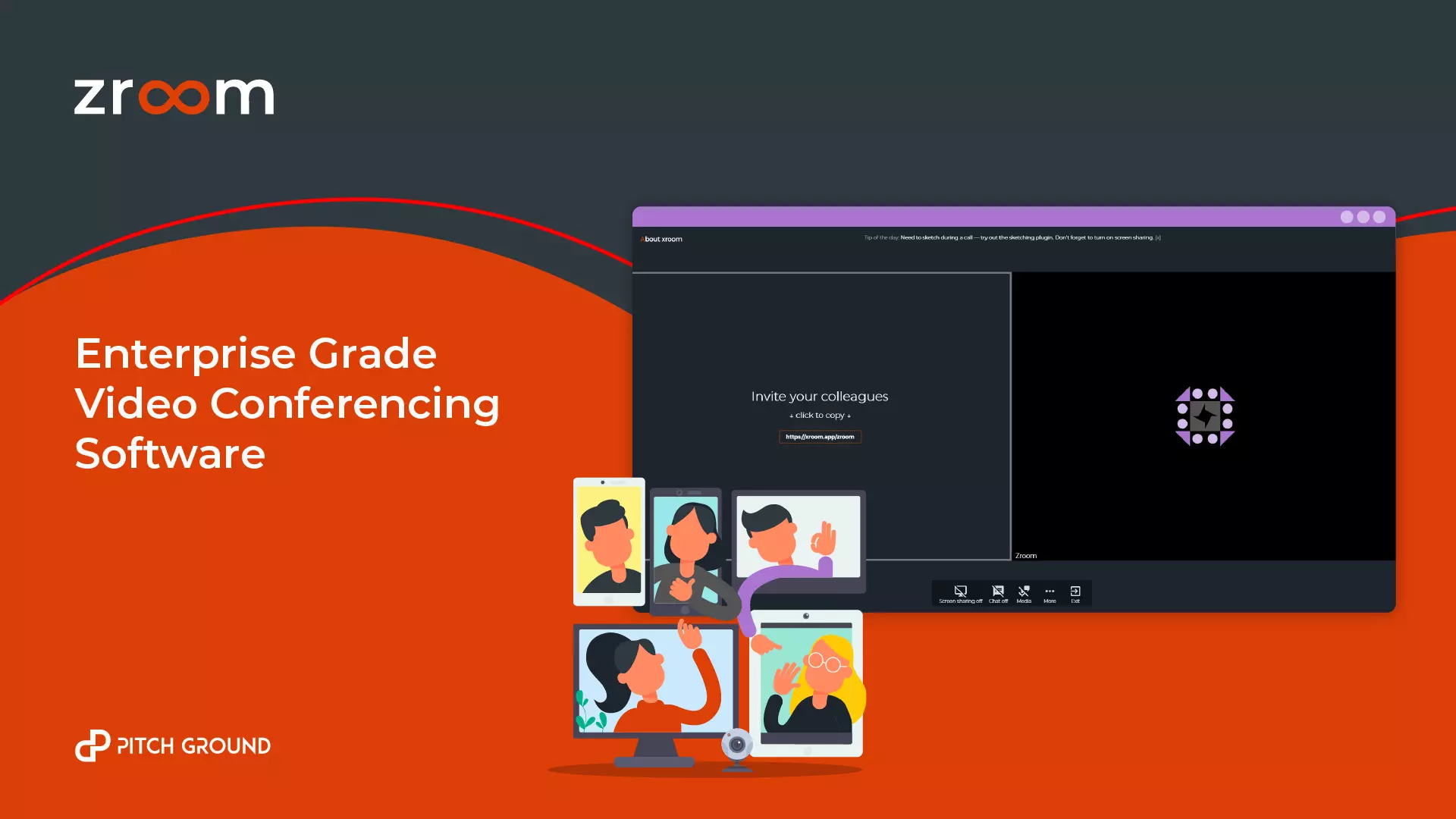 With the increase in online communication between businesses, employees, and users, everyone is looking for reliable and secure Video Conferencing software.
But the best part is that you can also resell this video conferencing software under your name.
PitchGround introduces us to ZRoom, the World's First Brand-able Video Conferencing Software, where you can get your own Enterprise-Grade Conference Room for remote working with video chats, webinars, presentations, screen sharing, recording, API control, remote assistance, and much more.
What Is Pitch Ground?
PitchGround believes that education should be free and that software should be affordable and easy to use.
When you combine the two, you get a plethora of opportunities for everyone.
To truly make an impact, the team behind PitchGround has assembled what we call an Education-First approach to educate online businesses and provide them with affordable software solutions that were previously prohibitively expensive.
What Is White Label Video Conference?
For most organizations today, having a functional and simple video conferencing solution to conduct virtual meetings with clients or to facilitate face-to-face interaction between remote teams is critical. While there are numerous web conferencing platforms available today that can do the job, some businesses prefer a more professional appearance by utilizing a white label video conferencing solution. White label web conferencing platforms enable businesses to customize the branding, look, and feel of their video conference application, making the entire application appear to have been built specifically for your company. A good white-label or private label video conference platform communicates a strong brand image and a sense of professionalism.
Features Of Zroom
Listed below are some of the core features of Zroom.
No login or Download
White Label
Secured Solutions
Integration
Language Support
Plugins
Add-ons
1. No Login Or Download
Who hates to sign-up and download an application whenever you have to use it? Sometimes you don't want to sign up for your private emails because then they fill your inbox with newsletters and updates. Also downloading an application requires some space on your phone and you don't want to invest that in some random application. So Zroom offers no login or download tool even on your mobile phone.
2. White Label
ZRoom provides a White Label solution, allowing you to resell the tool under your brand. There is no need for technical assistance. The only technical setup required is the addition of a domain record at your name registrar.
3. Secured Solutions
You will have access to security features such as video conferences, webinar presentations, screen sharing, text and file exchange, unlimited rooms, participants with limited bandwidth only, text and image chat options, and so on.
You'll also get a server API for room control, which allows you to create, delete, kick, lock, and set passwords.
4. Integration
You can create a room with various parameters using Telegram and Slack integration.
Agencies can buy more slots for reselling by using the Telegram bot and the Agency panel (dashboard).
5. Language Support
ZRoom currently supports ten languages, including English. Others are
Swedish
Russian
Spanish
Italian
Chinese
Ukrainian
Greek
Dutch
Turkish
6. Plugins
Using the plugin (frontend) API, you can create your plugins for ZRoom.
Plugins that are currently available.
Screen and audio recording
Locking the door + a peephole
Programming in pairs
Drawing instrument
Recorder of phone calls (all voices mixed into one audio track)
Phonebook for Smart People
Terminal from afar (requires a server app to connect to)
Heart pulse monitor in development
7. Add-Ons
You can set up a custom domain and choose from a variety of color schemes. ZRoom also remembers your last room for one-click re-entry, and there's even more below.
Namespace for individuals only
possess a domain
Create your color scheme
Logos created by yourself
Full SEO and social media preview assistance
Pricing
Agency Plan – $245
All of the above features
100 percent White Label
Agency Panel (dashboard) where agencies can purchase additional slots for reselling.
Ten subaccounts
These codes can be combined; each code adds +10 Sub Accounts.
Each slot (sub-account) resold by Agency will include the features listed above.
Refund Policy: 60 Days
How To Set Up A White Label?
The only technical action required is the addition of a domain record at your name registrar.
Is Zroom Watching You?
The architecture of ZRoom is peer-to-peer. Your video, audio, and text do not even make it to their servers. When they add repeaters to their system, they will be completely open-source, and you will be able to deploy them on your machine if you so desire.
How Many People You Can Add To A Room?
This is entirely dependent on your bandwidth and the type of room. On a regular home network connection, 7-8 people in a conference and 15-16 people in a webinar (including 1 host) work well.
Can A Large Meeting Be Arranged In Zroom?
No, not yet. However, you will soon be able to purchase additional resources in the back office. In that case, data will reach ZRoom's servers, but they will make the underlying code open source from the start, allowing you to examine it and ensure that your data is not sold to search engines or social networks.
How To Set Background Image On Zroom?
Some fields in your dashboard's domain theme editor support CSS format, and they are labelled as such. There, you can use standard CSS rules to set whatever your imagination comes up with.
Note: If you want to read more tech articles head over to the tech profile section.
Disclaimer: At startupnoon.com, we aim to provide authoritative, trustworthy, expert advice. Our staff thoroughly researches, edits, and fact-checks all content. If you think we can improve this article, please email feedback@startupnoon.com.