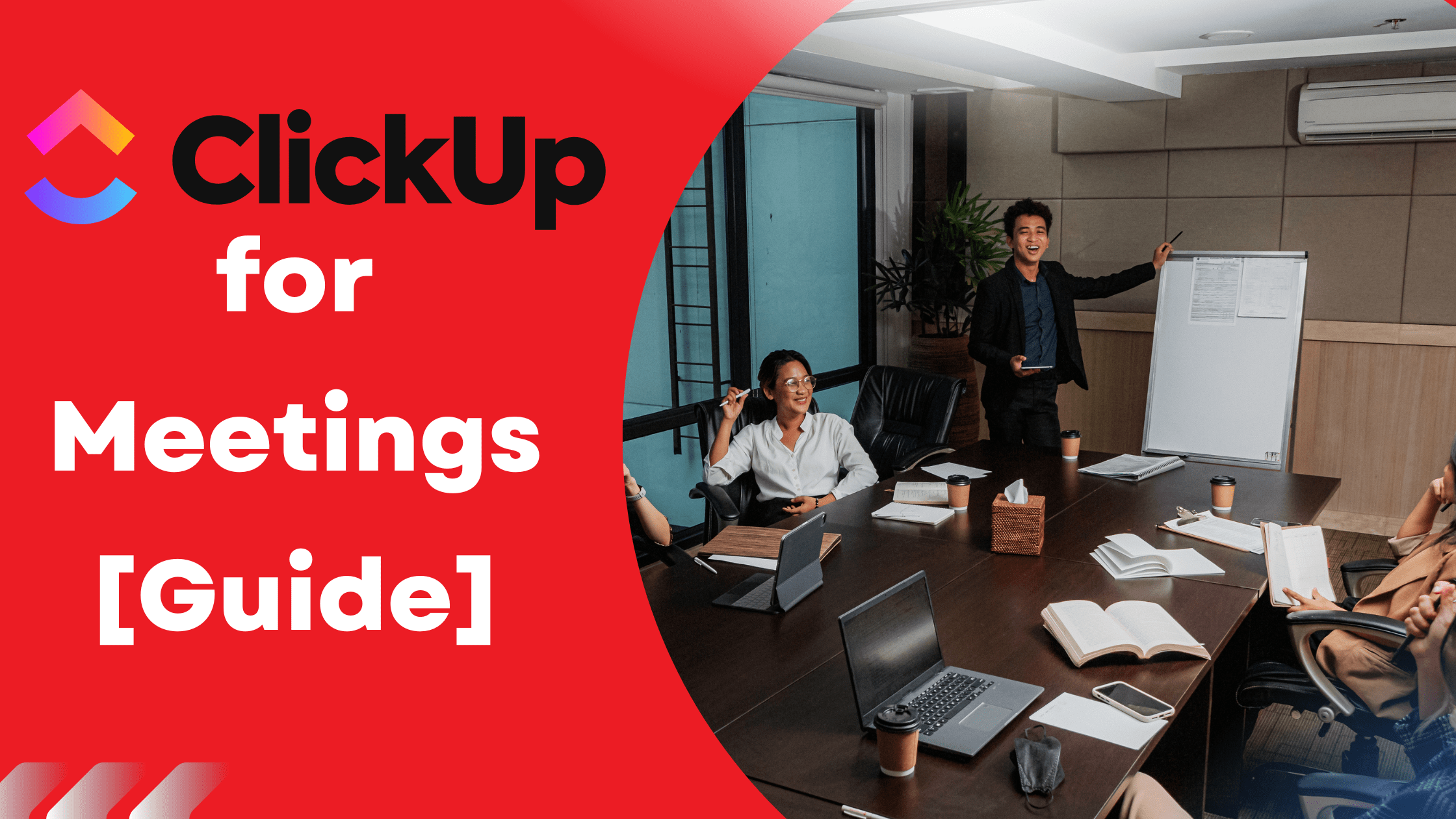 ClickUp has a plethora of strong tools that will allow you to take notes, monitor an agenda, and create action items that will hold your team responsible all in one location.
Control your Meeting Agendas
Create your Hierarchy Insert our "Meetings" Folder template into the Space of your choosing. Lists are included in the template to assist you in categorizing each meeting type ("This Month," "1x1s," and "Upcoming topics"). Feel free to change the template to suit your needs.
In these Lists, you can then define tasks for each meeting:
Custom Fields to Add Detail
You may use our Custom Fields functionality to define unique task fields for each meeting to describe the conference room and team type. To get you started, the Folder template shown above includes a plethora of custom fields, such as a progress percentage, a note, and colorful dropdown fields.
Custom Fields may be configured at the List level, allowing you to build a unique set of Custom Fields for each list if necessary.
When taking notes for a meeting, you may be creative with very rich editing and picture embedding in the assignment description!
Assign a comment to a teammate to delegate a short action item that will not fall through the cracks.
Add tags to provide more information about what is happening in the meeting ("team event", "urgent", etc).
Checklists are ideal for tracking simple activity items. You may nest and attach individual line items to a checklist, or even store it as a template for future use.
Create Tasks for Recurring Meetings
There is no need to create a task for each meeting manually. Use our repeating tasks feature to have them executed automatically.
Assume you have a Monday meeting at 9:00 a.m. You may schedule a job to be completed using your checklist and outline every Monday at 9:00 a.m.
View of the Chat
Add a Chat view to any view or location in ClickUp to discuss things unrelated to specific tasks. These provide you with all of the same capabilities as attachments, alerts, unfurled task links, and even embedding.
The Notebook
This function is ideal for keeping track of small checklist items, brainstorming sessions, or meeting minutes. Because your notebook is solely for your eyes, other users will not be able to see anything you've written.
Integration with Slack
Slack's Call function is ideal for organizing a meeting with your peers, whether they work remotely or not.
With ClickUp's Slack connection, you can easily combine and refer to your task workflows while conducting a Slack conversation! More information may be found in these documents.
Do you have a better way of using ClickUp for meetings? Send us a tweet or leave us a comment!
Disclaimer: At startupnoon.com, we aim to provide authoritative, trustworthy, expert advice. Our staff thoroughly researches, edits, and fact-checks all content. If you think we can improve this article, please email feedback@startupnoon.com.