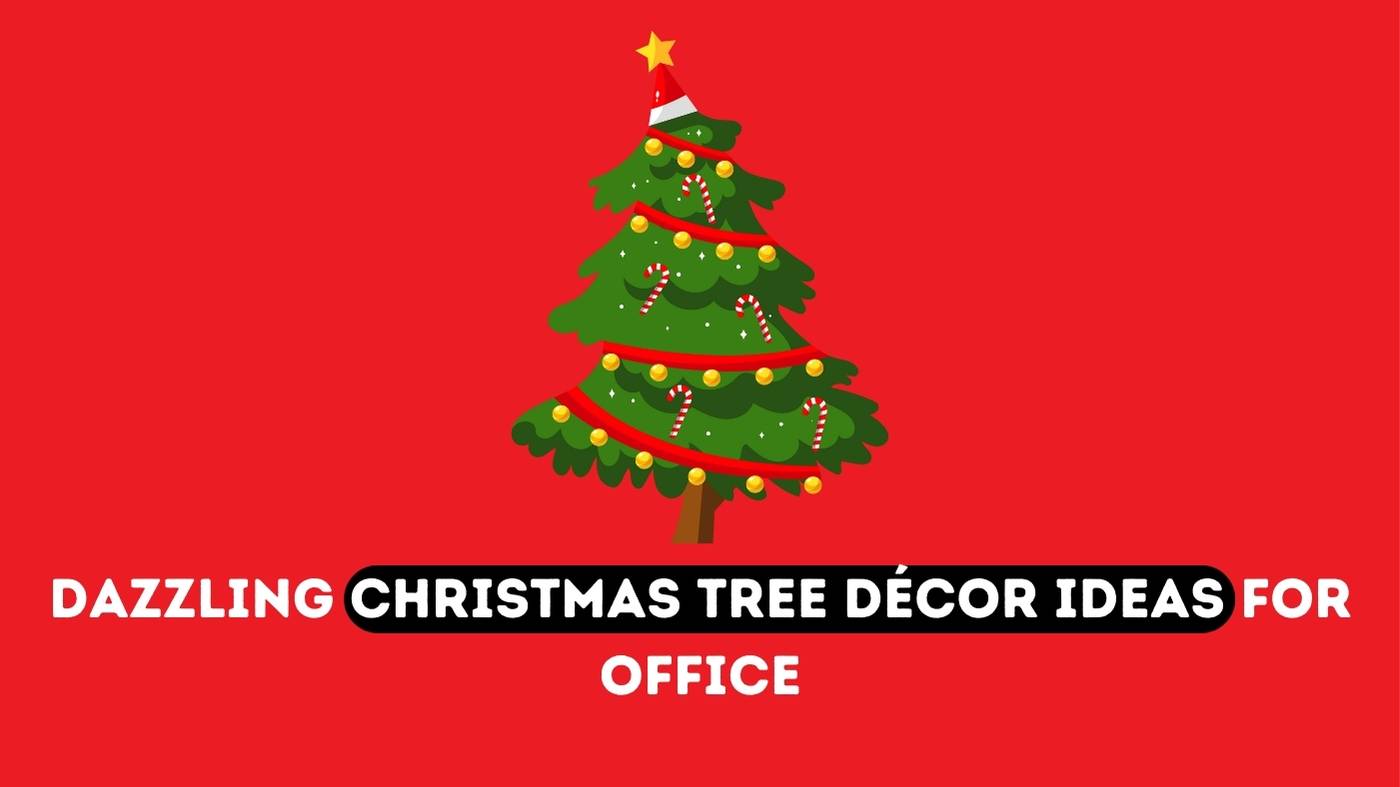 The office Christmas tree is the heart of workplace holiday décor. But adorning those boughs with something more inspired than store-bought tinsel takes creativity.
Follow this guide to 15 showstopping Christmas tree decorating ideas that spread office cheer from the lobby to the breakroom.
Natural Elegance
Birch Log Tree
Transform birch log rounds into a stunning natural tree with simple adornments. Stack varying sized logs as the base "trunk." Adhere clippings of baby's breath and pinecones with hot glue for organic embellishment. Wrap fairy lights throughout for a magical glow.
Fruit Garland
A vibrant fruit garland makes a bold tree statement. Slice oranges and limes into thin discs. Skewer coin-sized medallions on floral wire, alternating with pine sprigs. Drape the citrusy garland in swoops around the tree.
Tree Cookie Ornaments
Upcycle leftover craft supplies into charming tree cookies. Cut circle ornaments from scrapbook paper, felt, or cardstock. Decorate with buttons, pom poms, rickrack, and googly eyes to resemble iced holiday treats. Embellish with ribbon loops for hanging.
Handcrafted Décor
Knitted Stockings
Little knitted stockings warm any tree. Use a basic sock pattern with bulky yarn and oversized needles for quick projects. Embellish cuffs with wooden letters spelling out employee names or departments for personalization.
Sweater Patch Tree Skirt
Give the trunk seasonal spirit with a sweater patch tree skirt. Collect old sweaters in red, green, and white. Cut out snowflake, plaid, and holiday motif patches. Stitch together on burlap using a collage layout for eclectic style.
Paper Globe Ornaments
Deck boughs in bold graphic style with paper globe ornaments. Use paper punches to cut circles from magazines, sheet music, and wrapping paper. Assemble into spheres and cap with number stickers, washi tape, or glitter for global flair.
Gilt & Glam Decor
Sequin Garland
Drape the branches in dazzling DIY sequin garland. Stitch varying widths of sequin trim together, interspersing with ribbon. For luxe gold and silver allure, choose metallic sequins. Hang the shimmering garland in graceful swoops.
Gilded Pinecones
A touch of gilt takes pinecones posh. Brush pinecones with glue, then dust with opulent gold, rose gold, or copper eyeshadow. The soft shimmer catches the light for elegant iridescence. Group in threes for polished clusters along the limbs.
Marbled Ornaments
Marbling white ornaments transforms them into marbleized masterpieces. Fill cups with room temperature water, then carefully drop nail polish in holiday hues onto the surface. Swirl gently. Dip ornaments into the design, then hang to dry.
Novelty Decor
Book Page Wreath
Honor reading while decorating with a book page wreath fit for the office. Roll and glue book pages into rings. Layer rings of descending size on a wire wreath form. Finish by threading on beads, charms, and sprigs of cedar or juniper.
Keyboard Key Garland
Upcycle spare keys from broken keyboards into a garland that shows off everyone's tech skills. Print letters or holiday words on keys with a label maker. String together with a black cord, linking with black wire in between.
Paper Clip Wreath
Simple and sleek for modern deco style, a paperclip wreath works in any office. Hot glue jumbo colored paperclips into rings of graduating sizes. Form into a wreath shape on a wire base. Adorn with washi tape bows or metallic cording.
Sophisticated Accents
Flocked Branches
Achieve winter woodland magic with flocked branches. Cut bare birch or pine boughs to size. Spray adhesive, then coat with artificial snow flocking. Dot with sprigs of frozen eucalyptus and snowberry for polish.
Wood Slice Ornaments
Natural wood slice ornaments impart organic texture. Use a circle saw to cut thin rounds from birch logs or fallen branches. Paint rims metallic gold or silver. Add string for hanging anywhere on the tree.
Felt Pennant Banner
Felt triangle pennant banners string retro flair across the tree. Cut pennants from white, red, and green wool felt. Sew or glue together into one long banner. Drape artfully along the top, anchoring ends to decorate the entire crown.
Office holidays shine brighter with a Christmas tree that reflects your workplace style, personality, and crafting capabilities. Let these inspired decorating ideas spark your own creativity in trimming the hall — or at least the lobby — this year. Share the holiday spirit throughout the workspace through your gorgeous handmade tree decor.
Disclaimer: At startupnoon.com, we aim to provide authoritative, trustworthy, expert advice. Our staff thoroughly researches, edits, and fact-checks all content. If you think we can improve this article, please email feedback@startupnoon.com.